Different people have different needs when it comes to cooking appliances, depending mostly on the amount of food they can cook. Some people want to cook food for themselves and their better half, others for the entire family. Thanks to the different brands, we can buy the best cooking appliance that perfectly suits our needs.
We have decided to go for the family-oriented air fryers in this article. In this article, you will find the TEN best air fryers for a family of 4. We check the cooking capacity, the versatility, and the ease of use of the air fryer, before including it into our list. Cooking capacity is very important but, in our opinion, ease of use is just as important.
You can easily buy an air fryer that can cook a lot of food, but buying one that is easy to use is a bit tricky. The benefit of buying an easy-to-use air fryer is that everyone will be able to cook with it.
Touch screen controls and one-touch presets can be controlled even by teenagers to perfectly cook entire dinners and make snacks. 
When it comes to the cooking capacity, it all depends on the size of the air fryer. Mainly, air fryers are available in three different sizes; small, medium, and large. Here are the details of the three sizes to help you choose the perfect size for your family.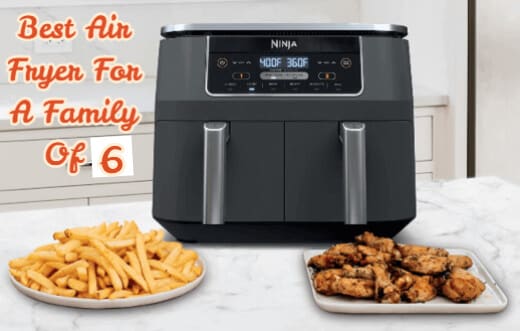 These are for the singles who live in hostels or live alone. Small air fryers mostly have a small cooking capacity ranging from 1 quart to 3 quarts. These can cook meals for a maximum of two people. The small size limits the cooking capacity, but it also makes them compact.
If you have a small kitchen or no kitchen at all, these are perfect for you because they can easily store in the cupboard after use. They can even fit in your vehicles like jeeps or RVs. In short, a small air fryer is the best air fryer for a family of 2. 
Medium Air Fryers
Medium-size air fryers are the best air fryers for a family of 4. These range from 3 quarts to 6 quarts cooking capacity. You can easily cook food for three to five people at once in these bigger baskets. So, if you want the best air fryer for a 4-person family, go with this size. 
Medium-size air fryers not only have bigger cooking capacity but better features as well. Features like presets are a prominent part of these air fryers and keep getting better as the size increases. That is why this is the most popular size of air fryers among consumers. They are the perfect combination of all three features; cooking capacity, ease of use, and versatility. 
Any air fryer with a cooking capacity of above 7 quarts classify as a large air fryer. These are for large families of 5-10 people. They take a lot of space, and they can cook a lot of food as well. Some are so big that you can use them in a restaurant. 
However, for a family of 2-4 people, they will be too much. They will do a fine job at cooking, but it's not efficient as a lot of energy will go to waste. So, if you have a large family of 5-10 people, this size is a good option. If not, we suggest you don't waste your money on something that you don't need. 
Best Air Fryer For A Family Of 6 Buying Guide
Now that you know about the various sizes of air fryers, you will be able to make the right decision about what size air fryer you need. So, without further ado, let's get into the list of the TEN best air fryers for a family of 4. 
1. COSORI Smart Wifi Air Fryer
We talked about the importance of the cooking capacity and the ease of use of an air fryer in the opening of this article. Being our number one, the COSORI air fryer is the best in both of these aspects. 
First, let's talk about the cooking capacity and capabilities. The CP158 has 5.8 quarts of cooking capacity, meaning it can easily cook food for a family of 4 at once. The unique square basket design lets you cook food for the entire family. The square design is much more efficient than a circular basket design. 
You can fit more food, thanks to the corners. It also improves the cooking performance as well. Just to give you an idea, you can fit a 5 lbs chicken in the basket at once without having to tear it down into pieces. Things like these don't seem too influential, but they make a real difference while cooking.
COSORI Smart WiFi Air Fryer 5.8QT(100 Recipes),...
Product 1: The COSORI Smart WiFi has arrived on the Kitchen scene! The first air fryer can now be...
Product 1: Alexa & WiFi Enabled: Remotely control your fryer through the VeSync app or through voice...
The air fryer is capable of doing so much in the kitchen that you wouldn't need any other cooking appliance. Most importantly, it's a healthier cooking alternative, as it requires 85% less oil for providing delicious fried food items under the budget of 100$. No matter while you are making fries for your kids or steaks for yourself, they will be delicious and healthy.
To make sure everyone can cook with the CP158, it has a touch screen control panel. You wouldn't have to navigate through the whole menu to get to the desired instructions. You can either manually set the instructions or use one of the THIRTEEN presets. Manually you can set the fryer to cook for up to 60 minutes using as high as 400F temperature. 
Or you can use the presets for fast and easy hunger fix. The control panel has presets for steak, chicken, fries, seafood, bacon, vegetables, frozen food, as well as dessert. As you can see, you can make a three-course meal using only the presets. Just imagine the range of dishes you can cook with the manual controls, using your own recipes.
2. Instant Pot Vortex 4-in-1 Air Fryer
With the sudden increase in demand for versatile cooking appliances, brands quickly evolved and started making them. One of the first brands to sell multi-cookers was Instant when they released the highly popular Instant Pot. 
They have continued their tradition with this 4-in-1 air fryer. With this air fryer, you don't just get to air fry; you also get to bake and roast food for your family. It even works as a microwave because it has the reheat feature as well. So, as the name suggests, you get the functions of FOUR kitchen appliances packed inside a single unit. 
Thankfully, versatility is not the only thing Instant brought to their air fryers; they have the best cooking results too. With technologies like the Perfect Crisp, this air fryer cooks your food more evenly and quickly than other conventional ovens and air fryers. It also cooks the food using 95% less oil, making the meals much healthier.
It doesn't matter whether you bake, roast, or air fry; the results are consistent and good; crispy on the outside and tender on the inside. The great thing is you can cook a lot of it so the whole family can enjoy the delicious and healthy food. It has a 6 quarts fryer basket which can easily prepare snacks as well as full meals for up to 5 people at once. 
The control panel of the Instant Vortex air fryer is quite elegant and minimalist. When off, you can't see anything. When it powers on, the screen lights up to show the available features. Then you can use the single dial to select the cooking function and set the cooking instructions. The screen also shows the cooking time and temperature you select, so there is no guessing when the food will be ready.
Lastly, to make sure the cleanup is fast and easy, the fryer basket has a safe and non-toxic non-stick coating. You can even clean the basket in the dishwasher. Make sure to check out our review of the best Instant Pot Air Fryer Combos as well!

3. GoWISE USA Digital Air Fryer
GoWISE USA is one of the most trusted brands by Americans. They strive to bring durable cooking appliances to every kitchen, so Americans can cook a lot of tasty food. They mainly focus on high-0quality cooking performance, but this model also brings some much-needed versatility.
This air fryer by GoWISE is an 8-in-1 multi-cooker, EIGHT as in eight cooking presets. The fryer supports EIGHT one-touch presets that help you cook dishes like seafood, poultry, fries, bacon, and even desserts with relative ease. Even if you don't know at what temperature and how long you need to cook bacon, you can just select the preset, and the fryer will do the rest. 
As you can see from the versatility of the presets, it is a very versatile cooking appliance. It not just lets you air fry your food, but it also allows you to bake, grill, and roast with little to no oil requirement. So, whether you eat meats, fries, cupcakes, or fish, you can be sure that it will be tasty and healthy at the same time.
Sale
All these features are on a touch screen control panel on the front of the air fryer. You can set all types of cooking instructions manually or use the one-touch presets. Manually, you can set the temperature to a maximum of 400F and cook for up to THIRTY minutes at once. With this wide range of settings, you can perfectly cook various types of foods.
A couple of useful features are the start/stop button and the built-in shake reminder. With the start/stop button, you can pause the fryer mid-cooking to change the time or temperature. This makes sure the food cooks exactly the way you like it. The shake reminder reminds you to pull out the basket and shake the food at regular intervals. You can set the reminder for 5,10, or 15 minutes. See our favorite Gowise air frying device with rotisserie in the best air fryer with rotisserie buying guide!
4. Ninja 4-in-1 Air Fryer
If you often find yourself munching on some unhealthy snacks and want to switch to a healthier solution, you need to check out this air fryer. This air fryer from Ninja is an air fryer and dehydrator combo that will let you make some healthy snacks at home. From beef jerky to dehydrated fruit slices, you will be able to do as much munching as you like, just healthier.
Apart from dehydrating and air frying, this air fryer can also roast. The roasting also happens using hot air, so it is also healthy and free from unnecessary fats and calories. You can even reheat the leftovers on the next day because it has the reheat feature as well. A highly versatile kitchen appliance with the quality of Ninja is a great combo. 
Ninja AF101 is a compact and lightweight unit, so you can guess it will have a smaller cooking capacity. However, it is still enough for a family of four. The 4 quarts basket can still prepare 2-4 chicken breasts or 3 lbs of chicken wings for the whole family to enjoy for dinner. For dehydrating, you can use the multi-layer rack so you can make enough healthy snacks for the whole family in one go.
Sale
The one thing that we didn't like is that there are no presets on this air fryer. Yes, it is versatile and provides restaurant quality taste, but not everyone can achieve that. Don't get us wrong, anyone can cook with this air fryer, but not everyone can achieve the perfect taste. You have to manually set the cooking time and temperature after selecting the cooking mode. When you have a small kitchen, air fryers are the best option, and the american brand Ninja is well known for its air fryers, as well as the Korean brand Cuckoo and the Japanese brand Zojirushi for their rice cookers.
So, you either make sure you perfectly follow the recipe or leave the cooking to the seasoned chef of your house. Even if you don't have much experience, you will learn the controls and find the optimal settings for each cooking mode with very little trial and error. 
So, we aren't saying that you should discard this option just because it doesn't have presets. We only mean that it would have been nice to have the facility of one-touch presets. Check out our Ninja Foodi Air Fryer and Pressure Cooker Review for the Best Ninja Foodi!
5. Dash DCAF200GBGY02 Electric Air Fryer
The best air fryer for a family of 2 people. If you aren't looking for a versatile cooking appliance that has presets, digital controls, and display screens, you might like this one. It is a 2.6 quarts capacity air fryer that has the bare minimum controls. It is perfect for a family of 2 that are looking for a fryer that they can use on a daily basis. 
The patented AirCrips technology that circulates hot air all over the fryer basket at higher speeds makes sure the food cooks faster and evenly; no undercooking. The AirCrisp technology also makes for healthier cooking. The foods cook with 70-80% less fat as well. You can cook all sorts of dishes from appetizers like fries to full meals like chicken breasts within 30 minutes.
The unique thing is the control panel of this air fryer. There is no display screen, no touch buttons, not even any buttons. You only get two dials, one to set the cooking time and the other to set the cooking temperature. The time dial is on the front, whereas the temperature dial is half-submerged into the top of the air fryer.
The good thing is that it has an auto shut-down feature. So, when the time you set is up, the heating element will shut down automatically to save your food from getting wasted. To make it safe to use, the housing and the handle stays cool to touch, even when cooking at the highest temperatures. So, it is safe to sue around children as well.
It's not the most popular of brands, but we assure you the cooking results match the results of some of the best air fryer brands. The 1000-watt powerful heating element will make sure the food is fried to perfection each and every time. Considering the price and the features it brings to your kitchen, it is certainly a top choice for a family of 2 people. 
6. GoWISE USA 5 Quarts Air Fryer
Air fryers let you enjoy fried food without the guilt of consuming unhealthy fats and calories of deep-fried food. The GoWISE 5 Quarts air fryer does exactly that in prime quality. The GoWISE patented Rapid Air Technology makes for the finest cooking performance and makes the food crispy and brown on the outside and juicy and tender on the inside. 
The heating element of this air fryer is powerful enough to generate a wide range of temperatures so that you can cook a variety of meals. You can cook for up to 30 minutes using temperatures from 170F to 400F. Or, if you don't feel like manual cooking, you can use one of the several presets for fast and automatic cooking. 
Using the presets, you can easily prepare some classic fried foods like fries, chicken, fish, steak, and much more. All the presets have separate buttons with clear writings, so anyone can use them to cook dinner. Even your teenagers will prepare delicious midnight snacks themselves with ease.
On the front of the air fryer, there is a display screen as well that clearly shows the cooking time and temperature. So, you always know what is going on. This also helps you multi-task in the kitchen. You can check how much time is left, so you can easily manage other tasks as the air fryer cooks the main dish in the background. 
The 5 quarts cooking basket is more than enough for the whole family. A unique thing about this basket is that it comes with a basket divider. You can set the divider and cook two different foods at the same time. You can cook wings on one side and make some fries on the other side. For easy cleanup, the fryer basket has a PFOA-free non-stick coating. Just make sure you use a soft sponge while cleaning so that you don't damage the non-stick coating.
7. Chefman TurboFry Air Fryer
Another one of those minimalistic air fryers that focus only on the cooking. No extravagant controls or features, just plain and simple cooking. Chefman has a reputation for providing high-quality cooking results, and the TurboFry air fryer also provides the same, thanks to the 1200-watt heating element. 
With this powerful heating element, the air fryer is capable of generating 200F to 400F temperatures for perfectly crispy and juicy fried foods. It also means that the food cooks with very little oil. To be specific, this air fryer will provide deep-fried-like food with up to 98% less fats and oil consumption. 
Aside from the wide temperature range, this air fryer is also capable of cooking for longer times. At one, the air fryer can cook for a maximum of 60 minutes. The wide range of temperatures and longer cooking times help the customers to cook a variety of dishes in this air fryer. You can fry some chips, bake some cupcakes, roast chicken wings, and do much more.
Sale
The controls of this air fryer are different, to say the least. There is only one knob on the air fryer that sets both the cooking time and cooking temperature. There are no presets available, no cooking modes to choose from, and no display screen as well. You can only set the cooking time and temperature, and the fryer does the rest. 
This control system does make the operations simpler and easier, but it limits the usability. Not everyone will be able to cook in this air fryer because not everyone knows the time and temperature requirements perfectly. It's the perfect choice for seasoned chefs, but beginners might have to go through a learning curve. 
A useful feature is the auto shut-down feature that brings some ease of mind. You can set the cooking instructions and chill. The fryer will cook and automatically power down when the food is ready. 
8. Ninja Max XL Air Fryer
When it comes to versatile air fryers, Ninja is the first name that pops up on every list. They try and make the consumers cooking easier and better by integrating more and more features into their air fryer. The Max XL air fryer brings SEVEN functions to your kitchen in a stylish and compact housing. 
With the Ninja Max, you can air fry, roast, broil, dehydrate, bake, and reheat your food as well. A patented cooking mode is the Ninja Max Crisp which is perfect for making fried foods like chicken wings or fried chicken pieces. With the Max Crisp, the air fryer brings maximum crispiness on the outside and the best juicy and tender finish on the inside. 
The cooking capacity of this air fryer is one of the largest out of all the products on our list. It is one of the best air fryers for a family of 5, considering the cooking capacity. With the 5.5 quarts basket, you can easily make enough food for up to 6 people in one go. You also get a stainless steel broil rack that you can use to roast, broil, and dehydrate different foods to perfection.
Sale
The best thing about this air fryer is how easy to use it is. A very clear and easy-to-understand control panel with separate buttons for every function makes it extremely easy to use. You can choose the cooking function and then set the cooking instructions using the separate buttons. Since there is a display screen, you always know what input you gave and how the food will cook.
Using it is not the only ease it brings; it is also very easy to clean. The fryer basket has a ceramic coating, the broil rack is stainless steel, and you get a crisper plate to keep the heating element clean. All the accessories are non-stick so they will wipe clean with a ease using a soft sponge. We have reviewed the best Ninja Air Fryer Combos in our Best Pressure Cooker Air Fryer Combo buying guide!
9. TaoTronics Air Fryer
When you take a look at this air fryer, you will feel like you have seen it before. That is because it looks a lot like the well-known COSORI air fryers. Thankfully, it not only looks like a COSORI air fryer, but it also has similar qualities. It is powerful and versatile and provides very good cooking results. 
The highlight of Taotronics air fryer is the ELEVEN one-touch presets. Yes, you can make ELEVEN different types of dishes with a single tap on the screen of this air fryer. The presets include some favorite snacks like fries, bacon, and shrimp to full meals like steaks, fish, vegetables, and frozen foods. You can make desserts like cupcakes and cakes in this air fryer.
Aside from the presets, the air fryer also has two very useful features. One is the keep warm feature that keeps your food warm and fresh after cooking until you are ready to serve. The other is the reheat feature, so you don't have to throw away the leftovers or lose their taste by reheating them in a microwave.
The cooking capacity of this air fryer is also a highlight feature. It has a 6 quarts cooking basket which makes it the perfect size for families. Thanks to the powerful heating element of 1750 watts, you can cook a lot of food quickly. With the 360-degree air circulation technology, the food not only cooks fast but uniformly as well; you can forget about undercooked food forever. 
With the help of a digital touch screen, even the teenagers in your family will be able to cook delicious food in this air fryer. The panel has touch controls and a display screen that shows the cooking time and temperature you set. You can either use manual instructions or use one of the ELEVEN presets for cooking your favorites. Whatever you decide, we assure you it is very easy.
10. Ninja DZ201 Foodi Air Fryer
With continuous innovation, brands try and make innovative products. Ninja has always tried making consumer life easier, and this is another great step towards achieving that. The DZ201 is our top pick for families that have 5-6 people. The reason is the 8 quarts cooking capacity and the unique cooking chamber. 
The DZ201 has two different cooking chambers, each of which fits two 4 quarts fryer baskets. In total, the cooking capacity of the DZ201 is 8 quarts. Since the fryer has two different cooking chambers, you can cook two different meals at the same time. The cooking chamber also has different heating elements and separate controls as well.
You can cook entirely different foods in both baskets at the same time using different times and temperatures. You can also use the same settings on both baskets and cook the same meal in both baskets. So, you can cook a lot of fries at the same time, or you can make veggies and steaks in the two different baskets at the same time.
Sale
This is a 6-in-1 cooking machine that lets you air fry, air broil, roast, dehydrate, and bake as well. It can also reheat your food better than a microwave oven can. With the help of the dual cooking zone and the versatility, you can cook different types of food for the whole family in a very short time. It really is the best combo of ease of use and versatility.
The control panel lets you choose the cooking time, cooking method, and cooking temperature of each cooking zone separately. When you want to cook different meals in each basket, you can use the Smart Finish settings and set cooking instructions separately. When you want to cook the same food in both baskets, you should use Match Cook. 
A display screen clearly shows the cooking time and temperature you set for each zone, and you can easily change them mid-cooking as well, so you don't have to worry too much.
Key Points to buy the Best Air Fryer For A Family Of 6
Air fryers are now a must-have cooking appliance in every kitchen. They let you enjoy your favorite fried food items without the guilt of the fats, calories, grease, and mess. Moreover, they are highly versatile and can help you do much more than just frying. Some of the best air fryers have up to 8 cooking methods packed in one unit. 
The problem arises when you have to find one good air fryer that will suit all your needs. There are so many options available that finding the right one becomes a difficult task. So, to help you make that decision, we decided to write up a buying guide. In this buying guide, we have written some absolute basics that every air fryer should have. 
We hope it will be of some help and will help you find the best air fryer for a family of 6. So, let's get into it.
Cooking Performance
Cooking performance means a lot of things. Firstly, what does the food taste like, what does it look like, how fast does it cook, and is there any undercooking or overcooking? However, you can't judge these things by looking at the product description. A simple solution to this is looking at the power of the air fryer. 
For instance, the more wattage an air fryer uses, the better cooking performance it will have. A 1200 watt air fryer will cook the food, but it won't be as quick as a 1700 watt air fryer. So, for better cooking performance, buy a powerful air fryer with at least a 1500-watt powerful heating element. 
Capacity
If a fryer can't cook enough food for the family, then what's the point of having one. So, make sure the air fryer you buy can cook the amount of food you require. At the start o this article, we wrote a size guide that shows what size air fryer is suitable for what needs. So, you can take a look at that to make sure you understand the sizes and cooking capacity of the air fryer.
Secondly, you should always get an air fryer with at least 5 quarts of cooking capacity. This way, you will be able to cook for the entire family of 2,3,4, and even 5 people. Moreover, with the large capacity, you can quickly cook some food for the guests as well.
Controls
Making food should not be difficult. Thankfully, with digital controls, anyone can cook food with ease. Digital controls mean a touch screen with touch buttons instead of having to use a dial or knobs. Digital controls are much more specific, so the food cooks much better, and there is no guessing involved with your cooking. 
Other Useful Features
The following features are not entirely necessary, but they are a huge positive:
Preset programs.

Auto shut-down.

Dishwasher-safe cooking accessories.

Non-stick basket and interior for easy cleanup.

Stay-cool exterior body.
FAQs
What Size Air Fryer Is The Best For A Family Of 6?
As we mentioned at the start of this article, the best air fryer for a family of 6 is the medium-sized air fryer with a cooking capacity of 4-6 quarts. This size has more than enough cooking capacity to cook for 4-6 people easily, and the unit itself is quite compact, so it can fit any kitchen countertop.
What Is The Best Air Fryer For A Family Of 5?
The COSORI Smart Wifi Air Fryer is our top pick as the best air fryer for a family of 5 or 6 people. It is certainly one of the best in every aspect. The large cooking capacity, the presets, and the versatile cooking methods make it our favorite. 
What Is The Best Air Fryer For A Small Family?
The Dash Electric Air Fryer is the best air fryer for a small family. It has a 2.6 quarts cooking capacity, which is enough for 2 people. Moreover, it is a compact unit that perfectly fits even in your cupboard. So, if you live in a small apartment, the Dash air fryer is a great choice.
What Is The Best Air Fryer For A Big Family?
The Ninja DZ201 is the best air fryer for a big family because of the dual cooking zone and the total 8 quarts cooking capacity. You can easily cook food for up to 8 people in this air fryer, as well as make snacks for after-dinner munching. 
Conclusion
As we conclude this article, we will leave you with our top pick for the best air fryer for a family of 6. We think the COSORI Smart Wifi Air Fryer is the best air fryer for small and medium families with 2-6 people. It is easy to use, easy to clean, versatile and can cook a lot of food quickly. What else could you ask for from any cooking appliance?
There is a buying guide in this article as well, so you can choose the right air fryer if you don't like our top picks. So make sure to give that a read, and hopefully, you will make the right decision and not waste your money. Feel free to ask for any other help or ask any questions you might have.