What is a Sous Vide cooker? A Sous VIDE cooker is a kitchen appliance that allows household cooks to prepare food at precise temperatures below the boiling point of water. This type of cooking provides several benefits, including improved texture, flavor and nutrition in foods. What's more, because there is no need to monitor the cooking process as closely as with other methods, sous vide can be a great way to make complex dishes with little fuss.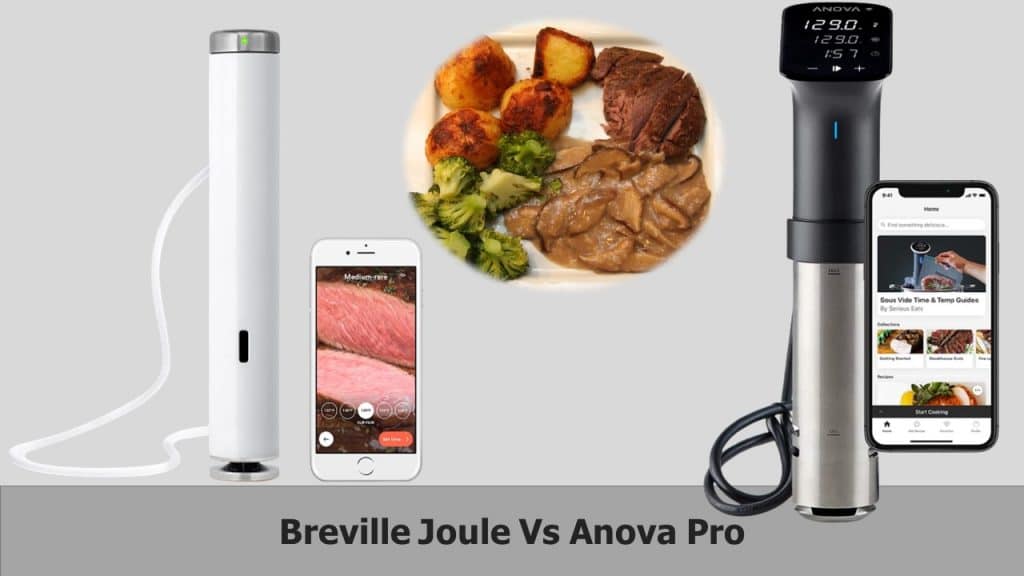 How does it work?
Sous vide devices heat water to a precise temperature and circulate it around food sealed in plastic bags or glass jars. The low cooking temperature prevents moisture from escaping the food, so items cook evenly inside and out without drying out or overcooking.
In this blog post, we compare Breville Joule vs Anova Pro in detail to find out which one packs more features and has better performance to offer. Let's begin!
Breville Joule Vs Anova Pro Comparison Table
Features
Breville Joule Sous Vide
Anova Sous Vide Pro
Dimensions
4.1x4x13 Inches
3.5x2.4x13.8 Inches
Weight
1.28 lbs
3 lbs
Material
Polycarbonate / Stainless-steel
Aluminum, Stainless-steel
Wattage
1100W
1200W
Voltage
120
110-120
Control Panel
None / Operated via App
Touchscreen
Connectivity
Both Bluetooth & Wifi
Wifi
Clamp
Fixed
Adjustable
Magnetic Base
Yes
No
Flow Rate
3.6 liters/min
12 liters/min
Companion App
Yes
Yes
What to Cook?
Anything
Chicken, Fish, Veggies
Eggs, Beef, Lamb, Pork and more
User Rating
4.7/5 Star
4.6/5 Star
Best Price
Buy on Amazon
Buy on Amazon
Breville Joule Sous Vide Review
Breville Joule sous vide cooker is a high-tech and powerful immersion circulator that's quite different than most sous vide cookers on the market in many ways. It is sleek and compact in design measuring only 4.1x4x13 Inches and weighing only 1.28 pounds which is incredibly lightweight. Made out of Polycarbonate / Stainless-steel material, the construction feels extremely durable and its not going anywhere for many years to come.
Given its compact size, we don't really require large pots unlike other bulky and large models. Despite being small, it packs a punch with 1100W power while its white color exterior fits well with any kitchen theme.
Controls
This is the only downside which we noticed and that is no control panel. We found out that there aren't any buttons, no touchscreen control panels or anything to operate this thing. It can only be controlled with its mobile app. Connect the app via Bluetooth or Wifi, setup the app and you are ready to go. It can also be controlled via Amazon Alexa which I found pretty useful especially when I don't really want to leave my couch.
Key Features: Breville Joule Sous Vide
Breville joule sous vide has sleek and compact design which can easily be stored in the cabinet.

Companion app lets you operate the sous vide cooker remotely with ease.

If the clip doesn't work with your pot, the joule has magnetic base which can keep it stable in the pot without using the clip.

The app lets you select the doneness and it also has visual doneness feature so you could see how the food will be cooked with the doneness you selected. Quite useful!
Best Deals – Breville Joule Sous Vide
Breville Joule Sous Vide, Stainless Steel, CS10001
Smallest, sleekest sous vide tool available at just 11 inches tall and 1.3 pounds, with streamlined...
Saves space: Half the size of other sous vide machines, it's small enough to slip into a top drawer....
Pros:
Magnetic base for added stability

Compact yet powerful

Wifi and Bluetooth connectivity

Small footprint makes it easy to store

Precise cooking results from rare to well done
Cons:
Expensive

No physical controls on the device
Anova Pro Sous Vide Review
Anova has 3 great models to its credit and Anova pro as the name says, is the finest and most powerful of all. If you are looking to cook for a lot of people or considering starting your own sous vide cooking business, Anova Pro would be your best partner.
Anova pro packs 1200W of power to heat up to 100L of water but obviously you won't require that much water to cook for your family.
Anova Pro is mainly made out of stainless-steel and it boasts of an IPX 7 rating. Measuring 3.5×2.4×13.8 inches, it is bulkier than Breville joule. Also, it weighs about 3 pounds which is heavier than Joule BUT, it certainly is not too heavy to move around with ease.
Control Panel
For controls, it has an easy to follow touchscreen control panel on the top which is intuitive and easy to access. Anova app can also be setup with the device however, I personally love the physical controls. Its all about personal preferences!
Anova sous vide has an adjustable clip, so you could easily use it with most sous vide containers. With that said, with Anova pro you'll be able to cook a wide range of recipes from chicken and fish, veggies and eggs to Beef, Lamb, Pork and much more with the exact same doneness you had always loved.
Key Features: Anova Pro Sous Vide
Anova pro features a touchscreen control panel with digital timer which makes it easy to set the required temperature and time.

The adjustable clip makes it possible to use the Anova pro with most containers.

It quickly heats up the water to required temperature.
Best Deals – Anova Pro Sous Vide
Sale
Pros:
Outstanding precision and accuracy

Reliable for long cooking sessions

Incredibly easy control panel

Consistent cooking performance
Cons:
Breville Joule Vs Anova Pro: Winner?
Anova Pro is a top of the line sous vide that offers many features for the home cook. It has an app with recipes and guides, WiFi capabilities, and comes with an adjustable clip to fit any pot or container you might want to use.
The Breville Joule also offers a wide range of options, from being waterproof to WiFi and Bluetooth connectivity and an app that controls the device. However, the main difference between the two is lack of control panel in Breville joule and it can only be operated with the companion app which many of you may find great but some of you might not find it that cool.
For physical control, I am rooting for Anova pro sous vide however, if you prefer something more compact and powerful, Breville Joule sous vide is one of a kind. Let us know which one would you choose and why? We'd appreciate your feedback to help our readers to pick the right one.