Best Cuckoo rice cookers are known to be equipped with the most advanced and innovative technologies and Cuckoo CRP P1009SB is no exception. Along with innovative features and state-of-the-art technology, the cuckoo has really smashed the ball out of the roof with its incredible design. The cooker looks like something out of sci-fi movies.
About the Cuckoo 10 Cup Rice Cooker CRP P1009SB
If you have many mouths to feed, and don't want to spend hours by the stove the cuckoo CRP P1009SB is the answer. With its multiple cooking options you can make sure you get different food for everyone on the table. Keep reading our cuckoo CRP P1009SB review to know more about this exceptionally smart device.
Key Features
| | |
| --- | --- |
| Brand | Cuckoo |
| Origin | Korea |
| Model | CRP P1009SB |
| Dimensions | 15.5x12x11 Inches |
| weight | 15 Pounds |
| Available Color | Black & White |
| Cooking capacity | 10 Cups (Uncooked) |
| Material | Aluminum/Stainless Steel |
| Accessories | Instruction Manual, Rice Spatula, plastic measuring cup, steam tray, Cook-book |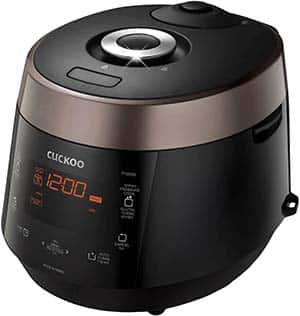 Cuckoo CRP P1009SB Design
The Cuckoo CRP P1009SB boasts of a very appealing and well-thought-out design that complements other kitchen appliances on your counter-top. Although it is available in white and black colors, black really stands out. Measuring about 15.5x12x11 inches, it is quite bulky and at 15 pounds a bit heavy so you will need a dedicated spot on your counter.
Like most cuckoo rice cookers, it has the digital control panel at the front side which is easy to access and use. It has a Keep warm/reheat, Press, Time, Menu, Auto Clean, Cancel, and Pressure cook/Turbo button to select any function required. The voice navigation in English, Chinese and Korean language further makes cooking more fun and enjoyable.
On top, you will find a steam valve, lock handle, and clamp knob. The steam vent works automatic and you do not have to adjust it anyway. Once you close the lid, the lock handle goes into lock mode. To open the lid, turn the handle to unlock and press the clamp knob. It may look a bit complicated at the beginning but once you get the hang of it, you will start enjoying cooking with your new digital kitchen companion. On the right hand, you will have a spatula holder. The inner pot is diamond coated which makes sure no minerals and nutrients are wasted and you get the best results every time you cook your favorite meals.
Features and Functions
The cuckoo 12-in-1 programmable rice cooker has 12 built-in programs including i.e. Glutin-rice, Glutin-Turbo, Mixed Rice, Brown Rice, GABA Rice, Porridge, Multi-Cook and more. Apart from rice, its pre-programmed multi-cook function lets you enjoy versatility. You can cook Suchi rice, Chicken soup, porridge, fermented bread, yogurt, pork chop with onion and garlic, cake and a lot more of your favorite delicacies.
If you are sick of eating overcooked rice, with Cuckoo CRP P1009SB you will be able to turn things around. A majority of users mentioned in their reviews that the rice turned out to be the best every time.
Furthermore, the handy keep warm, reheat, turbo cook and delay timer. The keep warm feature makes sure you get fresh rice as and when you feel like. It doesn't change the taste and keeps the rice as fresh as possible. Some users have mentioned that the keep warm feature can keep the rice warm from 24 hours to 36 hours without spoiling the taste and aroma. Pretty cool isn't it?
Cleaning
When it comes to cleaning, there isn't much to worry about. With the auto clean feature the Cuckoo CRP P1009SB rice cooker cleans itself effortlessly. Just add two cups of water and press the auto clean button. The inner pot, measuring cup, and spatula all are dishwasher safe. Even for folks who don't have a dishwasher, you can clean the rice cooker with a soft piece of cloth soaked in soapy water. Cooking with Cuckoo CRP P1009SB programmable rice cooker is as easy as it can get!
Conclusion
No doubt the Cuckoo CRP P1009SB is an elegant appliance with various innovative and advanced features. It offers consistent performance thanks to its advanced and smart cooking algorithm. But the cooker is on a bit expensive side. So if you don't mind spending few extra bucks we'd recommend you go for it right away. Otherwise, you will be able to find a load of other brands on the market offering budget options but at the end Cuckoo is A Brand that the world talks about!