This is a lovely, lightly spiced gingerbread recipe. It's beautiful sliced with a cup of tea for a mid-afternoon snack, or serve in warm for a pudding with thick double cream or custard (or both!)
Ingredients:
170g molasses
115g muscavado sugar
150ml semi-skimmed milk
85g wholemeal flour
85g plain flour
85g unsalted butter
55g rye flour
1tsp. bicarbonate of soda
1tsp. ground mixed spice
1tbsp. ground ginger
2 eggs
Pinch of salt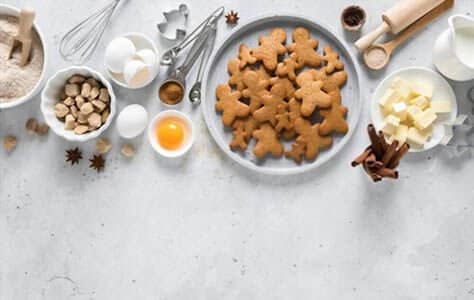 Directions:
Preheat the oven to 160C/gas mark 3.
Lightly grease and line the insides of a 900g loaf tin. Use baking parchment to make it easier to pop the gingerbread out when cooked.
Heat the molasses, sugar and butter together in a heavy-bottomed saucepan. Heat until melted and well-blended. Stir it occasionally – not too often, or you'll end up making something resembling fudge.
Remove this from the heat and leave to one side to cool down a little.
Sift all the flours, bicarb, salt, mixed spice and ginger together into a large bowl. Get rid of any bits of flour left in the sieve.
Make a well with your hands in the centre of the flour. Pour in the warm molasses mixture. Mix the two together. Gently beat the eggs with the milk and pour this in, too. Give everything a final mix. Don't worry at this stage at how runny the mixture is – it's supposed to be!
Bake this in the oven for between 1 hour and 1.5 hours, or until lightly browned and firm. Leave to cool as it will be far easier to take out of the tin.
If you want to warm this through, just pop it into the oven at the same temperature for about ten to fifteen minutes. It will be moist in the middle and perfectly delicious.
Related Articles