Recipes made of brown rice are healthier than recipes made of white rice. The Brown rice recipe is one of the healthiest foods in the world. People who are trying to lose weight and like to eat healthy rice recipes can prepare recipes using brown rice.
This is best for people suffering from diabetes since it can reduce insulin spikes. Let us see how to prepare brown rice with barley salad. Ingredients used in preparing this recipe are brown rice, pearl barley, red onion, trimmed and sliced zucchini, red capsicum, baby spinach leaves, chopped coriander, olive oil and currants. One tablespoon of honey, sixty ml of low-fat yogurt, and two teaspoons of tahini and one teaspoon of hot water are needed for dressing. Let us see how to make use of these ingredients to make the recipe healthy.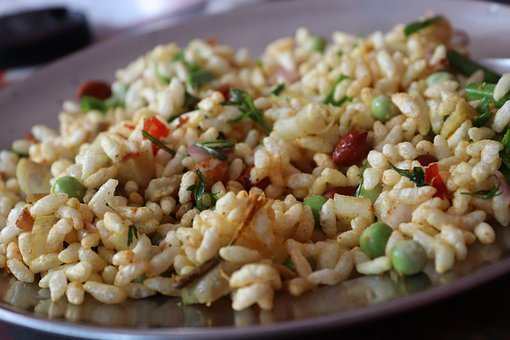 The first step is you have to preheat the oven to 180 C. Then line a baking tray along with the baking paper. The second step is taking a large saucepan and add water to boil. Then cook the pearl barley and brown rice in this pan for about 25 minutes. Give some time until the rice reaches it tender. The third step is placing the zucchini, capsicum and onion in a layer on the baking tray. Spray some oil lightly over the ingredients. Then leave it in the oven and bake it for about 25 to 30 minutes.
Let the vegetables to bake in the oven until it reaches its tender. The next step is taking a large bowl to place the barley, rice, baby spinach, coriander, currants, onion mixture and barley. Toss these ingredients gently until they are mixed well. Then season the mixture with pepper and salt. Whisk the lemon juice, yogurt, tahini, honey and water together in a bowl. Thus, tahini dressing is made.
The last step in the cooking procedure is serving the salads. Drizzle the tahini dressing and serve. The nutrition chart of this recipe includes 4 grams of fat, 9 grams of protein, 31 grams of sodium, and 11 grams of carbohydrate. These nutrition values are for each serve. This is one of the healthy rice recipes containing dietary fiber. Since it does not contain fat even people suffering from diabetes can add in their diet.
Brown rice contains manganese and selenium. Selenium minimizes the risk for illnesses such as heart disease, arthritis and cancer. A cup of rice can offer 80 percent of daily manganese requirements. This also helps the body to synthesize fats. The fiber in brown rice can keep the bowel function at its peak and makes the digestion process easier. It is rich in fiber and anti-oxidants.
This recipe is similar to a diet filled recipe with fruits, veggies, nuts, seeds, and grains. People who like to add healthy foods in their diet can add this recipe. They can also make several other healthy recipes using brown rice and stay healthier always.
Related Articles