Emeril Lagasse's pressure cooker air fryer is a combination of a conventional pressure cooker and air fryer which is claimed to have the ability to make anything you desire by using just a single appliance.
Pressure cookers are handy appliances that reduce the cooking time by almost half and make healthier and more delicious meals.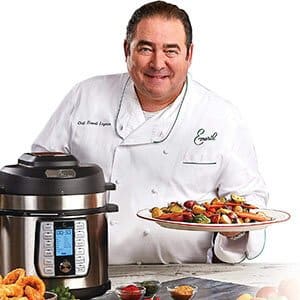 The only problem with a pressure cooker is that you can't make your food crispy or crunchy like a deep fryer. Air fryer on the other hand allows you to enjoy crispy and crunchy meals the way you like.
A pressure cooker combined with an air fryer gives you all the options when it comes to cooking your favorite meals. The tenderness of a pressure cooker and the crisp of an air fryer all from a single appliance is amazing!
We have devised this 'Emeril Lagasse Pressure Cooker Air Fryer Review' in order to explore what Emeril Lagasse Pressure cooker air fryer combo is all about and what they have to offer in terms of features and functionality. We will further have a look at what people have to say about the appliance. SO let's get it on!
Key Features
| | |
| --- | --- |
| Manufacturer | Emeril Everyday |
| Cooking Capacity | 6 Quarts |
| Weight | 24.7 Pounds |
| Cooking presets | 44 |
| Temperature range | 85-400F |
| Control | Digital Control panel with LCD display |
| Dishwasher Safe | Yes |
| Package Dimensions | 20.3 x 16.1 x 14.2 Inches |
| Product Dimensions | 13.3×12.8×14.5 Inches |
Emeril every day 6 QT Pressure Air Fryer Review
Emeril Everyday Pressure Air Fryer is a multifunctional appliance with a cooking capacity of 6 quarts which is good enough to cook for a large family. You will appreciate the fact that how versatile this appliance is. Even if your family members have different favorites, it will be able to manage whatever you throw at it. In short, it cooks all!
Emeril Everyday 6 Qt Design
The Emeril Everyday Pressure Air Fryer has a solid build with stainless steel inner cooking pot. The stainless steel cooking pot is good news for folks who are skeptical about non-stick coated pots because no matter how good a coating is, it will eventually start peeling off. With stainless steel inner cooking pot, you get healthier and tastier meals. It will not chip, corrode, get rusty or suffer any damage for years no matter how frequently you use the appliance. The housing itself is made out of food-grade stainless steel so it can handle years of use.
The control panel has a simple design with a life-size LCD in the middle and the buttons -surrounding it. Besides the control panel is simple, it is also easy to use. All you have to do is to push the button to select the function you want, set the time and temperature with the dual button and you are all set. The appliance is designed and made for heavy-duty work and it will last for years if well maintained.
The pressure air fryer functions as both a pressure cooker as well as an air fryer because of its dual lid design. Its pressure cooker lid traps steam and heat inside and creates a pressurized environment to cook the food within. Meanwhile, the air fryer lid's heating element combined with a high-speed fan circulates the super-heated air and creates a whirlwind around the food making it crispy.  You can virtually cook anything and everything will come out perfectly cooked without feeling soggy and mushy at all.
Upon close inspection, you will find a float valve, pressure release valve, steam release switch to release steam when required, and a lid handle on the top side of the pressure cooking lid. On the air frying lid, you will see stay cool handles, air intake vent on the top side while on the underside it has a wire harness, a heating element, and a super-fast fan.
Features and Functions
In terms of capacity, the appliance is available in 6 Quart, 8 Quart, and 10 Quart cooking sizes. So here, you have the option to go for what's most suitable for your family.
Emeril Everyday 6 QT Pressure Air Fryer comes with 44 one-touch cooking functions enabling you to cook fish, meat, veggies, pasta, rice, boiled eggs and desserts. Also, the most favorite canning setting lets you prepare fruits and veggies to be stored away in jars and a yogurt setting allows you to make healthy homemade yogurt.
On the display you will have easily accessible cooking presets including pressure cook, sous vide, steam, sauté, timer, slow cook, air fry, canning, and yogurt. A timer button is used to change the time required to cook any of your favorite dishes, while keep warm comes is useful if want to serve the meal later and wish to keep it warm at serving temperature. A delay timer feature lets you plan your meals in advance on a busy day. Just dump all the ingredients in the pot, close the lid, set the timer and Boom! Once you get back you will have your meal ready and HOT!
The appliance comes with an air fryer basket that can house an entire chicken for crisping. It can be used to roast or steam your favorite meals just like the way you want. The stainless steel inner cooking pan is treated to be non-stick, which gives you easier and faster cleaning. The pot being dishwasher safe is a plus!
Related Articles
Accessories
With the Emeril Everyday 6 QT Pressure Air Fryer, you will receive a recipe book, a glass lid, steam/air fryer racks, ladle, measuring cup, quick start guide, and an Emeril Lagasse cookbook with tons of recipes to try. The cookbook will surely be of great assistance if you are new to pressure cooker air fryers.
Assembly
The unit you'll receive will not be assembled and ready to use right away. You will need to fix a few things before you get to the cooking part! You will require adding the condensation collector yourself, and the rest of the parts will be assembled already. To add the condensation collector, the manual will tell you how to do so. Once you consult the guidebook, it will not be a thing to worry about and you will get it ready to roll just fine.
Related Articles
Conclusion
Although the market has some of the exceptionally well designed, well-performing and reputed pressure cooker air fryer from Instant pot, Ninja, Nuwave Duet and other brands if you are looking for something that can stand up to them, we found out that Chef Emeril Lagasse's Pressure cooker air fryer is worth the consideration. It is well designed, solid build, equipped with a ton of preset cooking programs, multi-functional, versatile and above all IT DOES ALL!
Hope our Emeril Lagasse Pressure Cooker Air Fryer Review is of some assistant to you, do let us know your thoughts on the appliance and its performance.