Gingerbread Biscotti recipe
This Italian-inspired biscuit embodies everything we love about British biscuits. Try them with some deliciously dark coffee for a Christmassy treat.
Ingredients:
275g plain flour
200g caster sugar
120g wholemeal flour
80ml vegetable oil
3 eggs
4 tbsp. treacle
1 tbsp. baking powder
1.5 tbsp. ground ginger
¾ tbsp. ground cinnamon
½ tbsp. ground cloves
¼ tbsp. ground nutmeg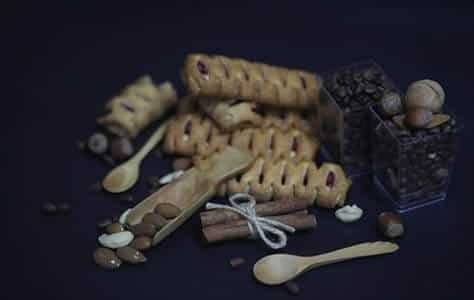 Directions:
Preheat the oven to 190C/gas mark 5. Grease two baking trays.
In one bowl, beat together the eggs, treacle, oil, and sugar.
In another bowl, sift together the flours, spices, and baking powder.
Mix the flour mixture into the egg mixture and mix with your hands if needed until you have a stiff dough. It shouldn't be too sticky. If it is, add a little more plain flour into the mixture.
Divide this dough in half. Roll it out to about the length of biscotti, around 10cm. Flatten this until it is around 1cm thick.
Pop it onto the baking tray and cook in the oven for 25 minutes.
Take these out of the oven and set to one side to cool. Once cool, cut into slices that are around 1cm thick. Pop these back into the oven for around 7 minutes to crisp them up further.
Instead of putting them back into the oven, you could also fry them in a pan in butter until golden. These wouldn't strictly be biscotti, but they still taste delicious. You could also sprinkle them with brown sugar before putting them back into the oven.
Gingerbread Crunch Cake Bars recipe
These are a nice alternative way to enjoy the taste of ginger, with different texture. Try them with a cup of coffee mid-afternoon for a deliciously filling snack.