Gingerbread Latte recipe
This drink is a lovely, warming take on a traditional gingerbread recipe. Absolutely perfect for cold, snowy days, try this drink with a lashing of whipped cream on the top.
Ingredients:
120ml milk
4 tbsp. espresso coffee
2 tbsp. gingerbread flavor syrup or ginger syrup
½ tsp. vanilla essence
1 pinch ground nutmeg
1 pinch ground cinnamon
Around 2 tbsp. whipped cream
Directions:
Combine the espresso coffee with syrup.
Steam the milk.
Pour the milk into the coffee and syrup and mix together well.
Top with the whipped cream and sprinkle the spices over the top.
Variations:
You could also put the spices into the drink with the espresso to make it even more flavourful and just sprinkle a little more over the top of the whipped cream.
Gingerbread Loaf recipe
This is wonderfully flavored and fills the house with delicious baking smells. Try it smeared with butter or syrup for breakfast on a cold winter's morning.
Ingredients:
250g plain flour
250ml milk
200g caster sugar
175g unsalted butter
3 tbsp. golden syrup
1 tbsp. ground ginger
1 tsp. ground allspice
1 tsp. bicarbonate of soda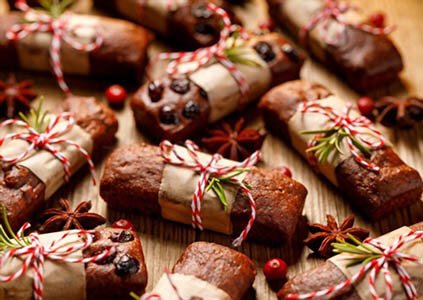 Directions:
Preheat the oven to 180C/gas mark 4.
Line and grease the insides of a 20cm by 10 cm loaf tin.
In a saucepan, heat together the sugar, syrup, butter and milk. Bring this mixture to the boil and then set aside, taking off the heat in the pan.
Sieve the flour, bicarb, ginger and allspice into a large bowl.
Pour the hot sugar mixture into the flour and stir until just mixed. Be careful, as the hot sugar can burn if you get it on your skin.
Put the loaf in the oven. Once in, turn the oven down to 160/ gas mark 2.5 and cook for an hour. Turning the temperature down once the loaf is in means it will be nice and hard, almost crisp on the outside, and deliciously moist in the middle.
Serve straight from the oven with thick cream or custard.
Related Articles