Since rice cookers have gained popularity and a special place on every kitchen counter, a number of manufacturers have come out with newer and advanced electric rice cookers such as cuckoo, Zojirushi, Aroma, and tiger that prepare rice and other meals putting in less time and effort. Given the availability of a rice cooker for every household, picking a rice cooker according to the requirements has never been so easy. In spite of the fact that the Imusa rice cooker is a Chinese product, the Japanese and Korean rice cookers boast advanced technology.
Best Imusa Rice Cooker Review and Buying Guide 2023
Some people find beauty in simplicity and they love to keep things simple. If you are one of those folks, IMUSA rice cooker should be your first choice when you plan to buy your rice cooker. IMUSA rice cookers have received thousands of positive reviews and 4.6-star ratings for their simple yet extremely sturdy and durable design. In this article we will review 5 best IMUSA rice cookers, so stay tuned!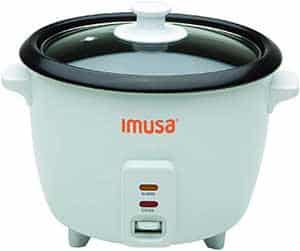 1. IMUSA USA GAU-00013 Electric Nonstick Rice Cooker 3-Cup
IMUSA electric rice cooker 3 cup is a perfect choice for people with a busy lifestyle. With IMUSA rice and multipurpose cooker, you can cook your favorite rice dishes, veggies, oatmeal, and also say bye bye to under cooked rice! You will experience the convenience due to its small size and simple functionality. All you have to do is press the on/off button and have your meal ready in no time. Its elegant design makes it a perfect fit for any kitchen décor.
With a very small price tag, it's a nice and functional rice cooker and suitable for small families for its small size. As the name says, IMUSA 3 cup rice cooker can hold 3 cups of uncooked rice that yields 6 cups of perfectly cooked rice, ideal for 2-3 member small family. If you are a big family you can go for IMUSA 5 Cup or IMUSA 8 Cup rice cooker.
The appliance features a keep warm mode as most of rice cookers do. The setting lets you keep your rice warm at a serving temperature for a few hours. We recommend you to add some olive oil on the bottom that prevents rice from sticking to the bottom if the rice cooker is sitting on keep warm mode for too long. You can add some extra water if you don't like olive oil, that will do too.
IMUSA 3 cup rice cooker is an energy-efficient rice cooker, takes less cooking time hence reduces energy consumption. IMUSA is mainly to make rice but you can make delicious soup as well.
The rice will come out perfect every time. Once the rice is ready, it switches to keep warm mode automatically. Make sure you do not leave the cooker on keep warm mode for a long time as it will start to burn from the bottom. The cooker is super easy to clean without having to rub and scrub due to its nonstick inner bowl. You will get a measuring cup, a serving spoon with this rice cooker. Overall it's an elegant, durable, and extremely simple to use a rice cooker for a very affordable price tag.
2. IMUSA USA A417-80801W Stovetop Aluminum Pressure Cooker
If you are looking for a not-so-fancy, luxurious and no-frills stovetop pressure cooker, IMUSA A417-80801W Pressure Cooker should be your first pick. Made of food-grade aluminum, this easy-to-operate model has smart construction that lets you operate it with the push of a button.
The IMUSA A417-80801W pressure cooker comes with incorporated safety features such as a release valve, stay cool easy side handle, and an automatic locking feature while the pressure cooker is in use.
Sale
It traps the heat inside and speeds up the cooking process by 70%, makes ideal beans, meats, veggies, soups, and more. It not only speeds up the cooking process but retains more minerals, vitamins, nutrients and saves energy while cooking. The rice cooker is super easy to clean and if you have a dishwasher, cleaning is a breeze then.
Use your IMUSA 7 Quart pressure cooker to cook delicious beans, soups, chili, poultry, and other one-dish items. With IMUSA pressure cooker you will experience a better, faster, healthier, and comfortable way of cooking.
3. IMUSA USA 5Qt Electric Stainless Steel 5-Qt. Bilingual Digital Pressure Cooker
Most IMUSA models are stovetop but this 5 Qt cooker is a bilingual digital electric pressure cooker. There is not much difference between stovetop and electric pressure cooker, as both works on the same mechanism. One does not work better than the other one; they only have various different features.
IMUSA digital pressure cooker is better in a way that you can adjust the time and pressure according to your preferences. It can be used as a slow cooker instead of a pressure cooker with its programmable features. Get rid of the old slow cooker and spare space for some new and modern appliances that you might want to buy.
The digital pressure cooker allows you to cook multiple dishes preserving the natural flavor and aroma of the ingredients. The cooker is equipped with programs such as Arroz/rice, Frijoles/ Beans, Carne/ Meat, Pollo/Chicken, and Coccion Lenta/Slow Cook.
The control panel is easy to understand and operate. The LCD display lets you have trace of time. Overall IMUSA 5QT is a very decent pressure cooker with programmable features and functions that you can have without hurting your budget. 
4. IMUSA USA Jumbo Stovetop Pressure Cooker 22 Quart
The IMUSA jumbo pressure cooker is called JUMBO for a reason. As you may have noticed the 22 Qt IMUSA pressure cooker is a commercial cooker because it can prepare a massive pot of food for a large group of people.
It's not a great pick for cooking at home but if you are a restaurant owner or you are hosting a special event or birthday party, this pressure cooker can help you cook enough food for the gathering. The giant cooking pot of the IMUSA pressure cooker is non-stick so cooking is super easy so you don't have to worry about cleaning the pressure cooker.
5. IMUSA USA GAU-00023 Electric Rice Cooker with Steam Tray
The IMUSA stainless steel rice cooker makes perfectly cooked delicious rice with the push of a button. Unlike other IMUSA pressure cookers, IMUSA GAU-00023 comes with a steam tray that allows you to steam your veggies, meat, chicken or any side dish while the rice cooks in the pot below.
The added measuring cup, serving spoon, the steam tray makes it a complete addition to a modern kitchen.
IMUSA GAU-00023 comes with a nonstick inner pot that prevents the rice and other meals from sticking and burning. Nonstick inner pot makes the cleaning effortless. With this small yet extremely useful appliance, you can make your favorite rice dishes, veggies, meats, oatmeal, and many more. Making breakfast, lunch and dinner have never been easy thanks to easy to operate IMUSA GAU-00023 rice cooker.
The rice cooker's glass lid lets you see what's cooking inside. The cooker is a 'Set it and forget it' device, where you dump the ingredient in the pot, press the button, and forget about it. The cooker will automatically switch to warm mode once the meal is ready. Overall it is a not-so-fancy yet extremely useful kitchen appliance that you can get for an amazing price.
Conclusion
Pressure cookers by IMUSA rarely have glitches, and in case of any trouble, the parts are so easy and cheap to replace. Whether stovetop or electric, IMUSA pressure cookers do not bring anything but pleasure and comfort. Pressure cookers by IMUSA are durable, reliable and can last for years if handled with proper care. Now that you have gone through our IMUSA rice cooker review, we hope you have found the one you are looking for.