Nutty Fruity Gingerbread recipe
The fruit peel and nuts make this gingerbread into more of a dessert. This recipe makes very moist gingerbread, absolutely perfect for teaming with warm thick custard.
Ingredients:
275g black treacle
225 unsalted butter
225g plain flour
225g wholemeal flour
100g caster sugar
2 eggs
250ml beer
1 tbsp. ground ginger
1 tsp. ground cinnamon
¼ tsp. ground cloves
¼ tsp. ground nutmeg
1 tsp. bicarbonate of soda
70g raisins
100g chopped mixed peel
50g chopped almonds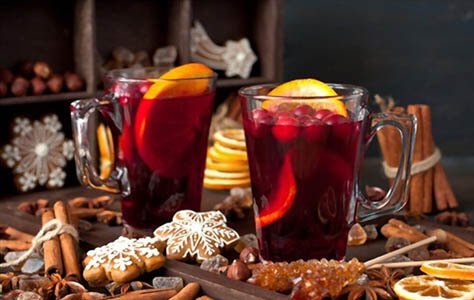 Directions:
Preheat the oven to 180C/gas mark 4.
Line and grease the insides of a 23cm round cake tin.
Roughly mix together the flours, spices, and bicarb.
In a separate bowl, cream together the sugar, treacle, and butter. Beat the eggs into this mixture, one at a time, then beat in the beer. Mix the wet and dry mixtures together.
Stir in the mixed peel, nuts, and raisins.
Bake this mixture for 40 minutes, and serve!
I know this sounds strange, using the beer, but it creates a wonderfully moist gingerbread with a fantastic smell. Imagine the scents of Christmas rolled into one yummy pudding, and you've got this gingerbread.
Spicy Gingerbread Biscuits recipe
This is a lovely easy recipe to do with the children. Cut out your biscuits using a man-shaped cookie cutter and go to town with the icing. These are also perfect left to cool and set, then wrapped in a little cellophane bag for Christmas presents.
Ingredients:
250g plain flour
125ml treacle
100g caster sugar
100g unsalted butter
1 egg yolk
Pinch of salt
½ tsp. baking powder
½ tsp. bicarbonate of soda
½ tsp. ground cinnamon
1 tsp. ground cloves
1 tsp. ground ginger
½ tsp. ground nutmeg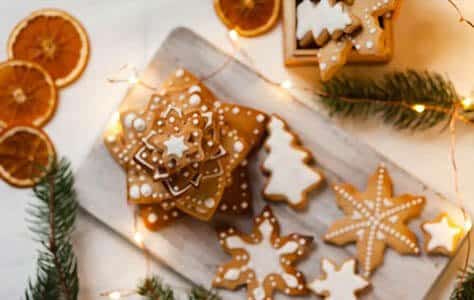 Directions:
Cream together the butter and sugar until smooth. Add the treacle and mix again. Add the egg yolk in and give a final mix until thoroughly combined.
Sift the flour, baking powder, bicarb, spices and salt into a separate bowl. Combine the sugary treacle mixture with the flour mixture until smooth. Don't overwork this or your biscuits will be the wrong texture.
Chill this mixture in the fridge for at least an hour.
Preheat the oven to 180C/gas mark 4. Grease a couple of baking trays.
Flour your work surfaces and get the dough out of the fridge. Roll it out to about half a centimeter in thickness and cut out your shapes.
Place these at least 5cm away from each other on your baking trays – this will make sure you don't get molded together gingerbread men.
Bake these for around 8 to 10 minutes in an oven.
Leave them to cool before the icing on a wire cooling rack. If you try and ice whilst the men are still warm, however tempting it is, the icing will slide off and melt and you'll be left with a big mess.
These are delicious dunked in a cup of tea or coffee and will last a good few weeks in an airtight container.
Related Articles