Rice cookers are expensive and not everybody can afford to have one. Well, that's the common perception about this beautiful appliance but it's not true! You don't really have to pay a lot or buy a large size twenty cup rice cooker in order to enjoy freshly cooked rice every time. Many manufacturers are producing small rice cookers perfect for individuals or couples that are capable of preparing as little as one cup of rice.
The Zojirushi NHS06 is a 3 cup (Uncooked) rice cooker suitable for people who cook for one or two. This basic model lets you cut down on waste by enabling you to prepare the amount of rice that you need for one meal. The rice cooker is a wise pick for beginners as it features very basic controls that allow everyone to operate it with great ease. Keep reading our Zojirushi NHS06 3 Cup Review to know more about this simple yet wonderful kitchen appliance that you will absolutely love.
Zojirushi NHS06 3 Cup Rice Cooker Review and Comprehensive Details!
If you like to keep it simple and are looking for a basic rice cooker, Zojirushi NHS06 allows you to cook great-tasting rice in no time and every time.  It's an efficient rice cooker that gets the job done with precision. With NHS06 you don't have to worry about portability, storability and your kitchen counter being too small as it a small and compact unit and doesn't take much space at all.
Key Features
| | |
| --- | --- |
| Brand | Zojirushi |
| Origin | Japan |
| Model | NHS06 |
| Dimensions | 7.5×9.1×7.5 Inches |
| Weight | 3.1 Pounds |
| Available Color | White |
| Cooking capacity | 3 Cups (Uncooked) |
| Material | Stainless Steel |
| Accessories |  Instruction Manual, Rice Spatula, rice measuring cup, steam tray, and a Cook-book |
Zojirushi NHS06 3 Cup Rice Cooker Design
The Zojirushi NHS06 is a no-frills rice cooker that boasts of a simple yet beautiful design. It has 3 cups (Uncooked) cooking capacity however, if required it can cook as little as one cup of cooked rice per batch. It features easy to use single switch control, a durable non-stick inner pot, stay cook handles and knob, glass lid and non-skid feet.
The stay-cool handles allow you to transport the cooker from stove to dining table with ease. Its glass lid lets you see while the rice is cooked while the stay-cool knob is helpful to open the lid. The inner pot is made out of healthy ceramic material and features a non-stick coating that prevents the rice from sticking to the surface making it much easier to clean the pot after a meal.
In terms of control, the model is very basic. It has a very basic single-switch control system. Once you add the ingredients, simply press the on/off button in order to initiate the cooking cycle. The unit doesn't have any pre-set cooking programs or menus instead you can use the default basic setting to cook oatmeal, quinoa, white rice and brown rice. With the lower price, you will miss out on important features such as the ability to slow cook your favorite one-pot meals. It involves a little guesswork if you are cooking brown rice. You will have to adjust the cooking length as required to have the best possible results.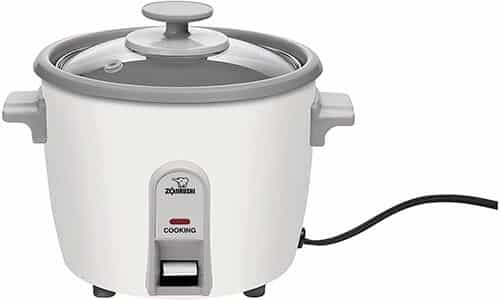 Overall Rating: 
Additional Features
The Zojirushi NHS06 comes with a steaming tray made out of food-grade stainless steel. You can use the tray to steam vegetables. Steaming is far better than boiling as steaming helps to retain all the nutrients. Furthermore, the unit has a stay warm feature that allows you to keep your rice warm at serving temperature. The feature is pretty useful especially when the guests are running late and you won't have to reheat rice using the oven or frying pan.
The rice cooker comes with a measuring cup, steaming tray, and a non-stick rice spatula. The accessories make your cooking experience more pleasant.
Conclusion
The Zojirushi NHS06 3 cup rice cooker is obviously not a feature-rich rice cooker that you can bake cakes with or make use of multiple preset programmable features. It only can handle cooking rice and steaming vegetables. If you are a student, lone dweller, or a couple looking for a budget and entry-level rice cooker, this is it!
It has plenty of features such as ease of use, ease of cleaning, one button control, non stick cooking pot, and a compact size for small spaces like dorms and apartments. Also, it is a beginner-friendly rice cooker that works on the principle of "set it and forget it". Enjoy a completely hands-off rice cooking experience hassle-free.
Sale
Related Articles!