If you are new to rice cookers, a simple and budget-friendly rice cooker will suit you the most. However, how do you do that? To answer the question, we have found a perfect kitchen companion that is simple, efficient and doesn't break the bank. In this review, we will discuss the Dash DRCM200GBPK04 Mini Rice Cooker. This simple rice cooker has also made it to our best Japanese rice cookers list, thanks to its consistent performance and ease of use.
Dash DRCM200GBPK04 Mini Rice Cooker Key Features
| | |
| --- | --- |
| Manufacturer | Dash |
| Control | Single Button Control |
| Colors | Available in 5 colors |
| Weight | 2.97 Pounds |
| Dimensions | 8.3×6.5×16 Inches |
| Size | 2 cups (Uncooked) |
| Additional features | Keep Warm |
| Accessories |  Rice paddle, measuring cup, removable non-stick coated cooking pot and recipe book |
| Warranty | 1 year |
Dash DRCM200GBPK04 Mini Rice Cooker: Design
Dash DRCM200GBPK04 Mini is a small yet mighty appliance in terms of performance and durability which lets you cook perfectly portioned meals including rice, soups, vegetables, and desserts. Yes, it cooks it all!
Made out of plastic and metal, the Dash mini rice cooker comes in a simple yet elegant design that fits into any kitchen theme. Availability of the rice cooker in sky blue, pink, red, white, and black color gives you the freedom to choose whatever color suits the best with your kitchen décor. PINK is ladies' favorite so better get a PINK for your better half!
In terms of design, the rice cooker comes with stay-cool handles helping you move it around without hurting yourself, even when it's hot. It has a see-through glass lid which many of you would appreciate who loves to have a glimpse while the food cooks. The knob of the lid is designed to stay cool to easily open and close the pot.
How do you cook rice in a Dash Mini Rice Cooker?
It comes with a non-stick coated inner cooking pot which is easily removable making cleaning easier and hassle-free. The entire control consists of a single on/off switch. Convenient isn't it? Just pop in the ingredients, plug the rice cooker and push the button to initiate the cooking cycle. It is designed for beginners so you will not have hard time operating the appliance.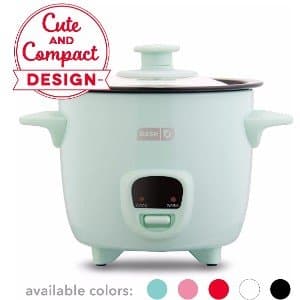 Features and Functions
Dash DRCM200GBPK04 Mini is a simple and basic rice cooker so it obviously doesn't have all those fancy bells and whistles and high-end technology like fuzzy logic, delay timer, programmable features and stuff. But that doesn't necessarily mean you can't cook anything but rice. Dash mini rice cooker lets you cook rice, pasta, oatmeal, veggies, desserts, and your favorite soups.
As mentioned, it has a single switch to control. Once you initiate the cooking cycle, it will automatically stop once the meal is ready. Not only that, it will automatically switch its keep warm mode on and will keep the meal warm at serving temperature for several hours. It saves you from the trouble of reheating your rice over and over. The Dash Mini Rice Cooker with Keep Warm Technology is the perfect way to cook rice for a single serving. You can serve your meal in less than 20 minutes by adding water and pressing the cook button.
Some users recommended not using the keep warm for more than a few hours because your rice may burn or dry out.
Additional features
The Dash DRCM200GBPK04 Mini rice cooker is a small size appliance perfect for singles and couples living in small spaces. It perfectly fits on a small kitchen counter without making it look cluttered. It sits well on the counter thanks to its non-skid feet which make it stable. Further, the exterior of the unit is made scratch-resistant and easy to clean.
It comes with a rice measuring cup, a rice paddle, recipe book, recipe database access and it is covered by one year warranty. Simple and Flawless is what it is!
Conclusion
Dash DRCM200GBPK04 Mini rice cooker is a perfect appliance for those who like to keep things simple. It's more suited for singles and couples who do not have to cook large batches of the meal. It makes you quick breakfast, easy meals and healthy snacks whenever you crave for. The single and easy-to-understand operation lets anybody operate the appliance with ease.
We hope you find our Dash DRCM200GBPK04 Mini rice cooker review informative and helpful. Do let us know your thoughts in the comment section below. We always appreciate and value our readers' response!