The Tiger JAX-T series of Tiger Corporation offers power pack performance, and multiple amazing features making your cooking experience pleasant and fun. You can cook white rice, brown rice, mixed, porridge and steam meat and vegetable dishes. In this tiger JAX-T10U-K review, we will explore and explain its accessories, clock, cooking functions, delay timer and other amazing features.
Tiger JAX-T10U-K Key Features
| | |
| --- | --- |
| Brand | Tiger |
| Origin | Japan |
| Model | JAX-T10U-K |
| Dimensions | 10.1×13.7×8.2 Inches |
| Weight | 6.83 Pounds |
| Available Color | Black |
| Cooking capacity | 5.5 Cups (Uncooked) |
| Material | Stainless Steel |
| Accessories | Tacook plate, rice measuring cup, spatula, ladle, steam vent cap, inner pot |
Tiger JAX-T10U-K Design
As its tagline says, it is a healthy, balanced, and better option for any household looking for a decent rice cooker with the latest features. The cooker is aesthetically pleasing and well designed. The body of the unit is made out of high-quality stainless steel which makes it durable. If well maintained, the rice cooker will last for years.
The unit is controlled through the control panel with clearly labeled buttons so you'd know what function you are looking for. The control panel is designed to be straightforward even if you are using a rice cooker for the first time.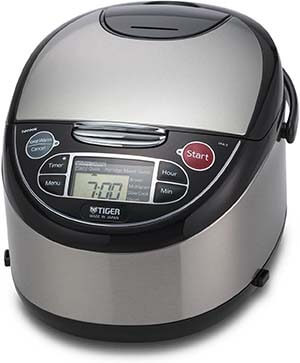 Features and Functions
The tiger jax-t10u-k has all features and functions that you find in any ultra-advanced unit today. To begin with, the unit has 5.5 cup (uncooked) rice cooking capacity which gives 10 cups of perfectly cooked rice enough for a family of 4-5 people. If you are a large family, the larger variant of the same rice cooker will serve the purpose which has an incredible 10 cups (uncooked) cooking capacity.
Moving on, tiger jax-t10u-k is equipped with tiger's innovative tacook synchro-cooking function. It lets you cook rice and main dish simultaneously without having the flavors affecting each other. With the help of steam made from cooking rice, meat or veggies placed on your tacook plate will be cooked simultaneously saving your time. Tacook is a perfect way to cook delicious and healthy one-pot meals for your entire family.
In terms of preset cooking menus, the rice cooker has 10 preprogrammed cooking functions including plain, quick, porridge, mixed-sweet, brown, multigrain, slow cook, steam, and synchro-cooking.
In a hurry? The quick cook feature reduces cooking time by 50% and cooks white rice in a jiffy. The plain menu setting cooks delicious fluffy rice and the results will be far better than the traditional stovetop. Brown rice takes longer than white rice but with a "brown" setting you get to have perfect results every time.
Using the porridge function, you can make as little as you like, and make whenever you like. Slow cook function lets you cook recipes with gradual simmering up to 3 hours for greater results. Using the Synchro-cooking function, the rice and side dish can be prepared simultaneously. No more waiting for one dish to cook in order to start cooking the next!
If you prefer any other special grain (Other than white and brown), simply use multigrain to cook other grains besides rice. With the amazing steam feature, you can steam meat, chicken, and your favorite veggies without using oil in a healthier and more balanced way.
Other than all these amazing features, the rice cooker is equipped with a delay timer that lets you plan your meals in advanced for a busy weekend. Another amazing feature "keep warm" keeps the meal at optimal temperature for several hours so you don't have to reheat every now and then.
Cleaning
The tiger jax-s10u-k rice cooker comes with a nonstick cooking pot which makes the cleaning effortless. The stainless steel housing is designed to be stain-resistant, fingerprint resistant and scratch resistant which keeps it new even after years of use. The other accessories like measuring cup, ladle, and spatula are all dishwasher safe.
Conclusion
The Tiger JAX-T10U-K rice cooker is a worthy competitor when compared to other micom rice cookers available on the market. If you are tiger fan, this tiger rice cooker does it all especially with its tacook feature it is capable of preparing rice as well as the main dish simultaneously which is amazing and saves a lot of time especially when you have guests coming in.
The rice cooker has got 90% positive reviews on Amazon with a 4.6/5 star rating. Overall, it is a highly recommended multi-cooker. Do let us know your thoughts about the tiger jax-t10u-k in the comment section down below!