Air fryers are the need of today's fast lifestyle. The multi-purpose cooking appliances are getting more and more popular among the American household due to the high utility value they bring to any kitchen. There are a lot of air fryers available in the market, varying depending on size, features, cooking capacity, etc.
There are a lot of different brands that manufacture some good-quality air fryers. Some focus on perfecting one single aspect, like cooking, while others accumulate the best of everything. One thing that's common in all air fryers is healthier food. All air fryers cook using very little oil, which results in fat-free and less-calorie food.
So, if eating healthy is your main objective, any air fryer from any brand will do nicely. However, if you are looking for some specific features, want a quality product that's for the American household, then we suggest you give this article a full read.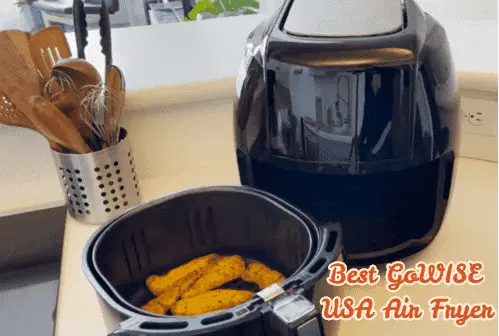 Best GoWISE USA Air Fryer Buying Guide
In this article, we have some GoWISE USA air fryer reviews for you. We will review six of the best GoWISE USA air fryers, which you can order right now, and start cooking healthy and delicious meals. We will take an in-depth look at the cooking capacity and the features that these air fryers have to offer.
The primary purpose of this article is to help you find the best GoWISE USA air fryer. We certainly hope that this article will be of some help and you will find the best air fryer for your kitchen. So, let's see our Six best GoWISE USA air fryers:
1. GoWISE USA 5.8 QT Digital Air Fryer
Our number one pick for the best GoWISE USA air fryer is the GoWISE USA 5.8 QT Digital Air Fryer. You can call this one the flagship of GoWISE air fryers because it has everything you would expect from an air fryer. We'll start with the cooking capacity and performance.
This air fryer has 5.8 quarts of cooking capacity, which is more than enough to feed up to FIVE people at once. You can bake a 7" spongey and round cake in this air fryer, make 1.5 lbs of french fries in one go, or fry up to 10 chicken wings in a few minutes. Whether you are making snacks or full meals, the capacity is big enough to accommodate every need.
The good thing is that the food cooks much faster in this air fryer. According to GoWISE, your food cooks in half the time the other air fryers take. So, if you ever have to cook a lot of food, you can easily prepare it by cooking in batches.
One of the biggest selling points of an air fryer, after health, is versatility. Air fryers, mostly, have multiple cooking functions to save your time and space from having to buy and use other cooking appliances. This air fryer is a perfect example of those versatile cooking appliances. It can air fry, bake, broil, and roast food items so you can cook different dishes and expand your cooking range.
While cooking, you can do one of these two things. You can either use the built-in one-touch presets or use manual controls for more personalized cooking. You get EIGHT presets with which you can cook fries, pork, chicken, steak, shrimp, pizza, cake, and fish with one touch. You also get the freedom to cook personal recipes using manual time and temperature control.
No products found.
The 1700-watt powerful heating element lets you cook for a maximum of THIRTY minutes at once using 180F to 400F cooking temperatures. This is the only problem we have with this air fryer; the THIRTY minutes cooking time. This means that for certain food items, you will have to set the cooking instructions twice, which can be off-putting at times.
All these cooking abilities have to be controlled by a digital control panel with a touch screen. The screen also shows the cooking time and temperature you put in, so you know exactly what is going on.
The air fryer also has some other useful features as well. There is a start/stop button as well that lets you change the cooking instructions mid-cooking cycle. A built-in shake reminder reminds you to shake the fryer basket at regular intervals for the perfect frying taste and texture. GoWISE thought of everything before releasing this one into the market.
One important aspect of any cooking appliance is the cleanup. Not all cooking appliances are easy to clean, but air fryers are. The GoWISE 5.8 QT is extremely easy to clean because it is non-stick. The interior and the fryer basket both are non-stick. The basket is dishwasher safe too, so it becomes even easier to clean.
One thing that people worry about when using air fryers is that whether they are safe or not. In the past, the non-stick coating on air fryers was under scrutiny for being dangerous. Thankfully, it is now clear of all problems and completely safe. The 5.8 QT air fryer also uses PFOA-free non-stick coating in the fryer basket, so consumers can cook and eat food without any worries. Both Our best air fryers under $100 and Best Large Air Fryers include this product as well.
No products found.
2. GoWISE GW22638 Programmable Air Fryer
Different consumers have different needs. Some need a large cooking capacity, others want a versatile air fryer that will become their all-in-one cooker. Some want digital controls, while others prefer analog controls with dials and knobs design. The GoWISE GW22638 air fryer is one of those air fryers that has all the latest features but with a smaller unit.
By smaller units, we mean a smaller air fryer with a smaller cooking capacity. It is in no way lower in quality and does not compromise on the cooking results. In fact, the taste and texture of the food in this air fryer are similar to the food cooked in the GoWISE 5.8 QT Digital Air Fryer. The GW22638 is pretty much the same air fryer with a smaller 3.7 quarts cooking capacity.
In the 3.7 quarts fryer basket, you can make ½ lbs of french fries, up to SEVEN chicken wings, or grill a 12 oz. steak. You can cook enough food for a maximum of THREE people at once. For bachelors living in hostels, students living in dorm rooms, or for small families, you wouldn't find a better option than this air fryer.
What makes it so good is not only the cooking performance you get from any GoWISE air fryer but the features and the size. You wouldn't find any other brand offering all these features in a 3 quarts air fryer.
For instance, the GW22638 offers SEVEN built-in presets, which you can use to easily prepare SEVEN different types of food items with just one button press. Using these presets, you can prepare some favorite snacks like french fries and shrimp, or cook some hearty meals like chicken steaks, fish, pork, and even do some dessert baking as well.
No products found.
These preset functions make cooking with this air fryer very easy. All you have to do is load the food and press the button, and the fryer will do the rest. This is especially helpful for students who want to eat healthy food while living away from home but don't know how to cook.
Just like the 5.8 QT model, the GW22638 also offers manual controls as well. It also has the same temperature range of 170F to 400F and a cooking time range of up to THIRTY minutes. AS we said earlier, the features and the cooking performance are quite similar, and the only real difference is the smaller size and cooking capacity.
Aside from all these cooking features, it also has some extra features that help with cooking. Most notably, this air fryer has an auto-shutdown feature that turns the fan off after twenty seconds once the cooking time is up. This makes sure your food doesn't overcook or burn even if you aren't there to take it out at the exact time.
Another handy feature is the keep-warm function. When you press this button, the air fryer maintains an optimal level of heat inside the cooking chamber, so your food stays warm and fresh until you are ready to take it out and eat. So, the next time you have to run to the market to get ketchup for your fries, they won't be stone-cold by the time you get home. In our list of the best small air fryers, it is the perfect match.
No products found.
3. GoWISE USA GW44800-O Deluxe Air Fryer
In these GoWISE USA air fryer reviews, you will see that there is a wide variety of products, but the major difference will be in the cooking capacity. The reason for that is, everyone wants to use the best features and functions that GoWISE air fryers offer, but not everyone will need a similar size and cooking capacity.
Someone who is short on space will want a compact air fryer that is easy to store. A large family will need a big air fryer that can cook enough food, and for some, a medium-sized air fryer is enough. The GoWISE USA GW44800-O is for those who want to cook a lot of food. That may be a large family, a hostel mess, an office kitchen, or even a school canteen.
Before we talk about the cooking capacity, let's talk about the features of this air fryer because there are some new ones in this model. First off, the cooking functions. Along with air frying, the GW44800 deluxe air fryer can toast, bake, roast, dehydrate, and defrost as well. You also get the Keep Warm mode to keep whatever you cook fresh and warm.
However, the most highly rated cooking function of this air fryer is the rotisserie. Using the rotisserie function, you get to prepare whole chickens and turkeys and even make delicious kebabs at home in no time at all. The best part is that all the rotisserie accessories you need come with the air fryer. You get a rotisserie cage, rods, tongs, and the complete skewer set as well.
Sale
GoWISE USA GW44800-O Deluxe 12.7-Quarts 15-in-1...
Family-sized & space saver: 12.7 quarts of cooking space makes this air fryer one of the largest on...
Built-in rotisserie: Prepare whole roasts, tenderloins, racks of Kababs, and even a whole chicken....
You also get plenty of more accessories for the other cooking functions. An oven rack, a drip pan, a mesh basket, a wire rack, and two mesh trays to bake, toast, dehydrate and fry your favorite food items in the best way.
You might be thinking this range of cooking functions will be difficult, but it's not. Thanks to the digital control panel, separate buttons, and an LED screen, using this air fryer is just like using a smartphone. You can select the cooking function and then input the cooking time and temperature with ease. You also get an easy-to-understand manual and a recipe book as well to inform you about the cooking instructions for certain food items. Furthermore, there are various presets as well, which you can use to cook delicious meals.
These built-in presets let you prepare some absolute favorites like pizza, fries, steak, baked potatoes, and wings with ease. All you have to do is select the right preset from the menu, and the fryer will cook it to perfection. If you don't know the details about which food needs to cook at what temperature and for how long, these presets will be a big help.
Lastly, the cooking capacity. This deluxe air fryer has 12.7 quarts of cooking capacity. In food terms, you can cook about 2 lbs of fries, make about 20 chicken wings, or cook an 8" pizza in this air fryer. If you have a large family or often host dinners and gatherings, this large cooking capacity will be a big help in saving you from batch cooking.
The feature that makes this our favorite is the multiple cooking racks inside the air fryer. You can also cook two different meals at the same time by using two cooking accessories. You can bake some potatoes in the lower rack and fry some wings in the top rack for a quick and hearty dinner.
The point is if you want to cook a lot of food, don't want to lose any versatility and cooking performance, we strongly suggest the GW44800-O deluxe air fryer. You get a large cooking capacity, a number of presets, and various cooking methods to enjoy different delicious cuisines at home. It's not a bad deal in this price range if you ask us. Since this product has a rotisserie, it was also selected as a Best Air Fryer With Rotisserie.
4. GoWISE USA GW22956 Electric Air Fryer
As you have seen in the above GoWISE air fryer reviews, GoWISE air fryers aren't short in the department of features and versatility. Even their smaller models still support vast functionality and loads of useful features. The GoWISE USA GW22956 air fryer is another air fryer that offers all those things and some new functions as well.
With the 7 quarts cooking capacity, the GW22956 lets you prepare food for up to SIX people at once. The new and improved fryer basket can fit more food and improve cooking results too. You can fit 2 lbs of french fries in the basket, or make 14 chicken wings at once, or even roast a 5 lbs chicken as a whole.
One thing we would suggest is that don't overstuff the fryer basket as it can affect the cooking performance, resulting in undercooked food. Another thing that might interest you is that it is available in smaller capacity options as well. You can buy 5 quarts and 2 quarts GW22956 as well.
Aside from air frying, the GW22956 brings lots more to your kitchen. It's a 6-in-1 appliance that can air fry, roast, broil, dehydrate, grill, and bake for you. People who like to try new and exciting foods every day will love this versatility. The powerful heating element also plays a huge role in the versatility of this air fryer.
It allows the fryer to generate a wide range of cooking temperatures from 180F to 400F. Also, unlike other GoWISE air fryers, the GW22956 can cook for up to 60 minutes at once. With this wide range of cooking time and temperature and multiple cooking methods, your food experimentation will definitely take an exciting turn.
Sale
Two other highly useful features are the Keep Warm and the Reheat function. After your food cooks, just tap the Keep Warm button, and the fryer will keep your food warm without cooking it anymore until you are ready to serve and eat. With the Reheat function, this air fryer becomes your microwave as well. If you aren't in the mood for cooking, just reheat the leftovers in this air fryer, and they will be as good as freshly cooked food.
The highlight of this air fryer, however, is the dehydrator mode. With the dehydrator mode, you can prepare certain dry fruits, beef jerky, and other healthy snacks at home with ease. For dehydrating, the fryer uses low temperature and long cooking times. From 90F to 170F and cook for 2-24 hours at once, the GW22956 is one of the best fryer and dehydrator combo.
The good thing is that even with all these features, using this air fryer is fairly easy, thanks to the touch screen control panel. When you power it on, the touch screen lights up, showing all the controls, which you can then use to prepare your favorite meals with ease. You can select the cooking function, set the cooking time and temperature, and even control the fan speed.
The only complaint we have with this air fryer is that there are no one-touch presets to cook some fast food. This might be a problem for beginner chefs. So, if you are a beginner and you buy this air fryer, you will have to go through a learning curve. You do get a recipe book and a manual as well that might be helpful to get you going. Due to its rotisserie, this air fryer is also a candidate for Best Air Fryer with Rotisserie.
5. GoWISE USA GWAC22003 Air Fryer
The GWAC22003 air fryer is another one of the high-end GoWISE air fryers that has plenty of useful features and provides great cooking results. It is also a highly versatile air fryer that can bake, roast, and grill as well. All this while using little to no oil and cooking your food with up to 80% fewer fats and calories.
This is possible because of the Rapid Air Technology that circulates super-heated air around your food for perfect cooking. Rapid Air Technology also lowers the cooking time, and you get to enjoy delicious meals within 30 minutes or less. Whether you fry some wings, bake some cupcakes, roast some vegetables, or grill some burgers, you will get healthy food in no time.
To make cooking in this air fryer easier, GoWISE has pre-programmed some favorite food items in this air fryer in the form of one-touch presets. Using these presets, even beginners can cook restaurant-quality food. The air fryer has one-touch presets for foods like french fries, chicken, pizza, shrimp, bacon, cake, and fish as well.
GoWISE USA GWAC22003 5.8-Quart Air Fryer with...
Healthier cooking in 30 min or less: Thanks to rapid air technology, you can now experience your...
Modern touch screen design: Sleek and modern look with advanced touch screen menu. New features...
Along with all these presets, there are separate controls for manual cooking. You can manually set the things like cooking time and cooking temperature to try out your personal recipes. The air fryer can generate 180F to 400F cooking temperatures, which are versatile enough to cook a variety of meals. The cooking time range is 0-30 minutes, which is a bit lower, but the faster cooking speeds make up for this.
The air fryer also supports some other minor features like a shake reminder. The shake reminder makes an alarm sound at five minutes intervals to remind you to shake your food. You can even change the instruction in the middle of the cooking cycle if you need to. There is a dedicated start/stop button to do just that.
When it comes to the cooking capacity, considering the price, this air fryer won't disappoint at all. It has a 5.8 quarts cooking capacity that is perfect for small and medium-size families as it can easily cook food for up to FIVE people at once. With all the different cooking functions and the large cooking capacity, you can cook everyone's favorite foods whenever you want.
An interesting thing about this air fryer is that it comes with lots of cooking accessories. We say interesting because it is very unlike GoWISE to give so many accessories with an air fryer of this size. You get an accessory for every cooking function this air fryer can perform. An 8' baking pan, an 8' pizza pan, one multipurpose wire rack, one skewer rack, one toasting rack, and one silicone mat.
Using these accessories and the right settings, you will get the best-tasting food, no matter what you cook. After using these, just put them into your dishwasher for fast and easy cleanup. The accessories are non-stick, and some racks are of stainless steel, so they are durable, safe, and easy to clean too.
Lastly, let's talk about the controls of this air fryer. You get a touch screen control panel that lights up when you plug in the air fryer. The screen illuminates all the presets, cooking time, and temperature controls and also indicates the temperature and time you set for cooking. Other buttons like start/stop, shake reminder setting, and power off are also on the touch screen for easy navigation.
6. GoWISE USA GW22621 Air Fryer
If you are looking for a compact and sleek air fryer that won't cost you your monthly budget but won't make you compromise on quality as well, the GW22661 is the best choice. It an under $60 air fryer with a digital control panel, small cooking capacity, and the typical cooking performance of a GoWISE air fryer.
It is the perfect choice for people who don't have a separate kitchen and have to store the fryer away after every use. It is so compact, lightweight, and portable that you can even fit it into your RVs or cars to take along on your road trips. All you will need is a 120V power supply, and you will be able to cook fresh and healthy food in this air fryer wherever you feel hungry.
The cooking capacity of this air fryer is 2.75 quarts, and it is available in the 3.7 quarts cooking capacity option as well. Of course, with the increase in capacity, the size will increase as well, which might affect the portability too. If you want portability, go for the 2.75 quarts model. If you want to cook more food and will be using it in your small kitchen, the 3.7 quarts is a better option.
The smaller size does not mean that you will have to compromise on the cooking performance or the versatility you get from any GoWISE air fryer. Much like other GoWISE air fryers, the GW22661 can also cook your food in various ways. It can air fry, it can bake, it can grill, and it can roast as well, that too with very little oil usage.
Sale
Even the cooking time and temperature range are similar to that of some of the bigger air fryers. It can cook at 175F to 400F high temperatures, and the cooking time is 1-30 minutes as well. So, manually cooking with personal recipes is a great option considering the range this air fryer provides.
The controls of this air fryer are fairly simple to understand and use. There is a minimal control panel with a few buttons and an LED screen. The only buttons are for power on/off, temperature control, and time control. The LED screen indicates the cooking instructions you set, so you know exactly what you are doing. Because guessing while cooking can lead to undercooking or overcooking, and basically, ruining of your meal.
The only downside of this air fryer, more so for novice cooks, is that there are no presets in this air fryer. The majority of air fryers include presets, so people who don't know how to cook can cook for themselves. However, the GW22661 doesn't have the presets, so you will have to go through a learning curve if you are a beginner.
Thankfully, you do get a recipe book with 50 recipes that you can try in this GoWISE air fryer to get you going. Once you get the gist, you won't need any guides too. Of course, presets would have been nice, but considering the price, we don't think you can have any complaints.
Buying Guide
Now that you have gone through our GoWISE air fryer reviews, we are going to take you through a buying guide where you will get to know about how to choose the right air fryer for your needs. There aren't too many things to worry about, and the most important thing is knowing exactly what you want.
So, before you start exploring the options, make a mental note of what you want from your air fryer? How much food will you be cooking? How much kitchen space is available? Do you want a single or a multi-purpose air fryer? Most importantly, how much are you willing to spend on the air fryer?
Considering your budget is very important because you can easily end up spending way more than you need to. Even in our own list, the prices of air fryers range from $150 to $60. So, do make a budget and stick to it. Aside from this, here are other things you should consider before you buy any air fryer.
Cooking Capacity
If you can't cook enough food, then what's the point of having any cooking appliance. You will have an idea of how much food you have to cook daily, so buy an air fryer that can match that demand. For example, if you will be cooking for 2-3 people, a 3-5 quarts air fryer will do nicely. If you have a bigger crowd to feed, go for higher options like 8-12 quarts capacity air fryers.
Versatility
It's better to have a versatile cooking appliance instead of a single-purpose appliance, especially if you are short on kitchen space. By versatile, we mean doing more than air frying. All of the air fryers in our list are highly versatile, with 4-5 cooking functions in a single unit. The versatile appliance will save you money, time, and space as well.
Features
The following features should be present in an air fryer so that the air fryer is easy to use, easy to maintain, and so that your cooking experience doesn't become too difficult.
Digital Control Panel: Digital control panel with a touch screen or buttons is a better option than an analog control system with dials or knobs. They are easier to understand and use, so look for an air fryer with a digital control panel.
One-Touch Presets: One-touch presets are pre-loaded programs into the air fryer that lets you cook certain food items with just a single tap instead of having to manually input the cooking instructions.
How to Gowise USA Air Fryer
FAQs
Is GoWISE USA A Good Air Fryer?
GoWISE USA air fryers are one of the best air fryers in the market with regards to cooking capacity and versatility. Following are the FIVE top GoWISE air fryers:
GoWISE USA 5.8 QT Digital Air Fryer.
GoWISE USA GW22638 Programmbale Air Fryer.
GoWISE USA GW44800-O Deluxe Air Fryer.
GoWISE USA GW22956 Electric Air Fryer.
GoWISE USA GWAC22003 Air Fryer.
What Is The Best GoWISE USA Air Fryer?
Our top pick for the best GoWISE USA air fryer is the GoWISE USA 5.8 QT Digital Air Fryer. It has everything you would need to cook tasty meals all year round for yourself, your family, and your guests too. It has a large cooking capacity, supports multiple cooking functions, and has a very intuitive and easy-to-use control system. In short, it is the best in every aspect.
Are GoWISE Air Fryer Better Than Ultrean Air Fryers?
In our opinion, this is just a matter of preference. Both brands offer similar features to the consumers, and the prices are pretty much the same as well. The difference arises in the cooking department, where GoWISE edges the Ultrean air fryers by a whisker.
Conclusion
With the air fryers being a healthy alternative to traditional deep frying, they are gaining popularity with the passing of every single day. More and more people are turning to air fryers to make sure they cook healthy and eat healthily and so are many brands manufacturing advanced and sophisticated air fryers with the latest and innovative features and cooking technologies.
We hope you find the best GoWISE air fryer from this detailed GoWISE air fryer review. The air fryers on our list are great for all sorts of needs as these offer similar features but come in different sizes. So, for people who want the best features even in smaller cooking capacities, these GoWISE air fryers are the best choice.