Tiger rice cookers uphold the highest quality, value, and standards and for that very reason, it has gained the trust of customers from all over the world. Available in two sizes 5.5 cups (Uncooked) and 10 cups (Uncooked) the rice cooker is able to cater to all your needs.
However, the problem with small rice cookers is finding the one that has all the required functions of its bigger and advanced counterparts. Usually, mini rice cookers come with two basic features i.e. cook and keep warm. Also, they usually have a single push-button for navigation. On the other hand, Tiger JAX-S10U-WY rice cooker and warmer is packed with all the features of an advanced rice cooker. Let us take a closer look!
Tiger Jax-S10U-WY Key Features
| | |
| --- | --- |
| Brand | Tiger |
| Origin | Japan |
| Model | JAX-S10U-WY |
| Dimensions | 10.1×13.6×8.2 Inches |
| Weight | 6.2 Pounds |
| Available Color | White |
| Cooking capacity | 5.5 Cups (Uncooked) |
| Material | Plastic |
| Accessories | Rice measuring cup, spatula, ladle, steam vent cap and a user manual |
Tiger Jax-S10U-WY Design
The Tiger Jax S10U WY rice cooker is a small rice cooker measuring about 10.1×13.6×8.2 Inches but boasts all the functions and innovative features of any advanced rice cooker available on the market. The rice cooker is made out of dense food-grade plastic in white color with gray accents in the lid. The design is somewhat similar to any other rice cooker with the control panel on the top. The control panel includes a digital display with start, keep warm/cancel, hour/min, timer and menu buttons to navigate the settings.
The unit has small footprints but can cook 5.5 cups (Uncooked) yielding 10 cups of deliciously cooked rice which is enough to feed a family of 5-6 people.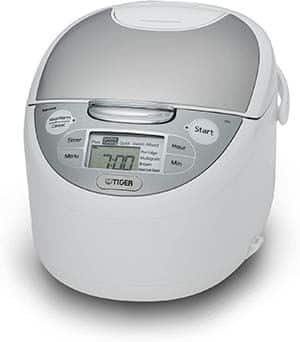 Features and functions
The tiger JAX S10U WY Micom rice cooker offers impressive and advanced features. It is also equipped with Tiger's Tacook cooking plate like most of tiger's rice cookers. Tacook is a technology that lets you cook your rice and a side dish simultaneously without ruining the taste of one another. The Tacook function separates the steam and aroma of rice from veggies, fish or meat cooking above so the flavor and texture of both the dishes stays intact.
The tiger micom rice cooker comes with 11 highly desirable cooking features including: plain, synchro-cooking, quick, sweet, mixed, porridge, multigrain, brown rice, slow cook, and steam. With all these cooking programs you got a wide range of options to cook all of your favorite meals.
It comes with a spherical inner cooking pot which allows greater heat conductivity and better distribution ensuring that your rice cooks evenly. It has a durable non stick coating which prevents the rice from sticking and burning as well as it makes cleaning effortless.
If you have busy mornings and find it hard to cook breakfast or you feel too lazy to cook after work, the tiger micom rice cooker will do it for you thanks to its 2 cooking timer settings. You can set and program your rice cooker to cook your meals up to 24 hours in advance.
Additionally, the unit features a keep warm function so once your meal is ready, the unit will automatically turn on its keep warm feature to keep your meal at optimal serving temperature for several hours. There will be no need to reheat it over and over.
Small in size, the Tiger JAX S10U WY rice cooker gets you all the perks of a modern and sophisticated rice cooker all packed into a small package. It is a perfect addition to your kitchen and a great companion for small families with busy schedules. Your busy lifestyle will be no hindrance if you wish to enjoy healthy and well cooked meals at home thanks to Tiger micom rice cooker.
Conclusion
Tiger Corporation has a long list of multi-cookers packed with latest technologies and offering extremely useful features and Tiger Jax S10U WY micom rice cooker is one of their finest offerings so far. With 80% positive and impressive reviews by clients from all over the world, the unit has earned incredible 4.5/5 star ratings on Amazon.
With it's 11 preset cooking menus, exceptional cooking performance and well-thought-out design, the rice cooker will surely be a great addition to your kitchen weaponry. Let us know if our Tiger Jax S10U WY review has helped you make an informed decision!