Who would have thought of having a plate of their favorite French fries every other day without adding few pounds to their already increasing weight? A kitchen appliance with innovative technology has made low-fat fries not only possible but they are DELICIOUS! Are you interesting about best small air fryers?
Air fryers do their magic and cook your favorite meals by circulating super hot air and no oil(oil-less air fryer). With more and more health awareness, thanks to social media fitness gurus, people are turning to healthy alternatives and adapting to healthier lifestyles and that's where air fryers are gaining popularity.
Usually, air fryers need a dedicated spot on the kitchen counter since they are bulkier and heavier and that's one of the reasons people shy away from buying one. Fortunately, with the expanding market more and more manufacturers are manufacturing compact air fryers that get the job done just like their larger counterparts.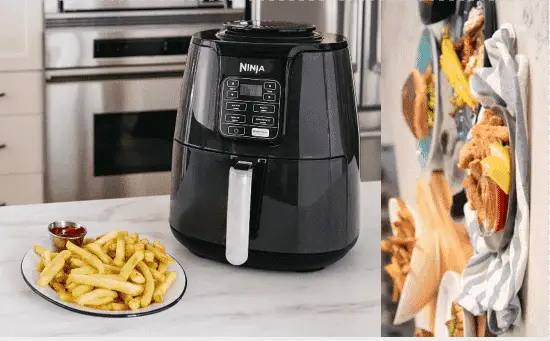 List of Best Small Air Fryers for Small Spaces
When deciding how small, first consider whether you have a dedicated spot on the counter or you'd like to store in the cabinet after use. Whether or not you change places? Whether you are single or living with your partner? How big is your family? The best small air fryer will fit under a standard cabinet and will let you cook whatever is that you crave for.
Please note, most compact air fryers are not digital and they come with simple dials to control and adjust the time and temperature. Air fryers equipped with long-timer and wide temperature range has are the most versatile ones. The best small air fryers below will let you feast on your favorite light and crispy meals in a matter of no time.
Need Our Suggestion?
Ninja Air Fryer that cooks, crisps and dehydrates is the best air fryer considering its performance, ease of operation, 4-quart capacity and compact size for easy storage.
With tons of choices available in the market, it is easy to get confused. Here we will check some of the best small air fryers available on the market. Afterward, we will list some of the key points to consider while buying the best air fryer for your household. So stay tuned!
Air fryers are available in a range of sizes, capacity and prices and it is easy to get confused. To make things easy for our readers, we will discuss some of the best small air fryers below. Keep reading!
1. Ninja Air Fryer that Cooks, Crisps and Dehydrates for Small Spaces. Best Small Air Fryers
Ninja Air Fryer AF101 is one of the best medium-sized, high-quality, and feature-packed air fryers from Ninja. It is sleek, aesthetically appealing, easy to store, quick, simple to use and a powerful machine that makes dang good French fries.
The food comes out having 75% lesser fat than the traditional fried French fries in a deep fryer. It is undoubtedly one of the best value air fryers on the market right now. It is equipped with all the crucial features and a couple of bells and whistles which is amazing for such a low price tag.
The cooker's black exterior is almost stealth-like while its chrome handle adds in its overall elegant appearance. It easily blends into any kitchen theme and décor. However, the control panel and buttons do seem a bit dated compared to other newer models from Ninja Foodi.
Sale
It's neither large nor very small rather an average-sized air fryer best for a family of 4. Although the device has an average size its footprint is much larger than air fryers with similar capacity by the rival companies.
Talking about the functions, the standard air frying settings cook quickly and healthy. You can use one of the preset features from air fry, roast, reheat, and dehydrate to cook delicious meals without having to worry about caloric intake. With the roast setting, you can enjoy roasted foods without using your oven.
The reheat feature lets you reheat any leftovers. The even heat distribution ensures food retains its original taste and aroma. Air fryer's dehydrating feature has the ability to dehydrate fruits, veggies, meat without making any noise as the fan in this setting remains very quiet.
The air fryer AF101 shines when it comes to performance. It's reliable, dependable and rarely lets you down. All the detachable accessories of the device are durable, well designed and Easy to Clean. Whatever you throw in the air frying basket will come out delicious and mouth-watering. If you have budget issues, the air fryer is worth considering. Along with Emeril Lagasse, instant post, and the Nuwave duet, Ninja is known for making pressure cooker air fryer combos. Thus, we compare all famous Ninja products such as Ninja Foodi vs Ninja Foodi Deluxe and Ninja Foodi op302 vs op301.
2. Dash DCAF200GBGY02 Tasti Crisp Electric Air Fryer for Small Spaces. Best Small Air Fryers
Dash is a well-known brand producing compact and dependable kitchen appliances. Dash DCAF200GBGY02 Tasti Crisp electric air fryer is a small entry-level air fryer boasting a 2.6-quart cooking capacity perfectly suitable for a single or a couple.
Dash Tasti Crisp is a no-frills, simple-looking yet elegant appliance available in aqua, black, grey, and white colors. You can choose the one that suits the best in your kitchen theme. The temperature and time dial is simple, analog which looks old-school yet stylish. It somehow gives a mid-twentieth-century vibe.
This small fellow has a small 2.6-quart cooking capacity which makes it one of the smallest air fryers in terms of capacity. There is a fair share of the market for small air fryers as students, singles, and couples who don't need a larger appliance or people on a tight budget who simply can't afford to buy a larger one.
It has an automatic shut-off feature. The appliance will shut off automatically once the frying/cooking cycle completes. Its cool touch housing keeps the heat inside and keeps the kitchen from warming up. Also, it keeps the outer surface cool so if you have kids running around the house there is nothing to worry about.
All the detachable accessories are dishwasher safe, so cleaning is as easy as cooking with Dash air fryer. If you do not own a dishwasher, you will have to take care of the non-stick coating while you clean the basket. Some consumers have complained about the fading numbers on the dial.
That's the only trouble with the appliance that we have noticed so far. While the simplicity of the air fryer is quite appealing its small capacity makes it perfect choice for students, people who live alone in dorms and apartments and couples who do not need a bigger appliance.
3. Dash Compact Air Fryer Oven Cooker for Small Spaces. Best Small Air Fryers
Air fryers are quickly becoming an essential kitchen gadget. They are versatile, fast, and make healthier meals than a traditional deep fryer. The Dash compact air fryer is an ideal appliance for picky eaters, small families (Couples) or people living alone who require to cook in small batches.
Dash compact air fryer –as the name says- is about half the size and weight of a regular/standard air fryer. It measures at 10.2×8.1×11.4 inches and weighs about 5.7 pounds only. It has a 2-quart frying basket which is pretty small compared to 4-quart basket you will get with a typical air fryer. It is best suited for one or two people as the basket can only hold half a bag of fries or about 6 chicken wings.
The design of the air fryer gives off a retro 80's feel, especially with the aqua color. You may, however, choose from 5 available color options the one that suits well with your kitchen décor. There is a manual turn knob that you can use to set the time. On top of the air fryer, you will have another knob that you shall use to set the temperature. The two lights below the temperature knob let you know when the air fryer is cooking and when it is not.
The cooking options with Dash compact air fryers are not unlimited like advanced and multifunctional air fryers available in the market. But you can cook fries, chicken wings, chicken pieces, onion rings and much more in small batches. We think Dash compact air fryer is very well designed and the size is specially kept small targeting singles, students, couples, and small families with picky eaters. And it will perfectly blend in with your kitchen theme.
4. GoWISE USA 3.7-Quart Programmable Air Fryer for Small Spaces. Best Small Air Fryers
If you are looking for a dedicated air fryer on a budget under 100$, the GoWISE 3.7-quart air fryer offers great performance at very decent price. Not only does it make the most delicious onion rings it is the easiest to clean out of all the fryers in this price range.
It comes with a nice interface and various cooking options, an ideal frying basket, and a beautiful design that will defiantly complement your kitchen counter. It has 8 different cooking modes, warm, chips, chicken, steak, shrimp, pork, cake and fish. The temperature range is from 170 to 400 degrees. Setting your required and desired cooking mode, temperature, and time is convenient as it has dedicated buttons with clear labels. And the LCD screen lets you know what you have selected.
Its 3.7-quart cooking capacity is neither too small nor too large. You can cook a variety of meals (Fries, fish, onion rings, shrimps, steaks, pork, cake and more) hassle-free. It has the capability to feed at least 3-4 people at a time with its medium cooking capacity.
Sale
The only problem we noticed is the frying basket. It's not very hard to remove and replace but somehow it stick a little bit which you will overcome with paying a little attention while removing it.
The air fryer is the easiest to clean; even the stickiest foods can be washed away with ease. Whatever you throw at the GoWISE it will come out with moderate scrubbing without leaving any mess. However, we recommend not using anything metallic to clean the basket as the non-stick coating is fragile and may peel off. Overall, GoWISE USA 3.7 Quart air fryer offers the best value for the money and serves delightfully crispy meals. Furthermore, GoWISE USA produces top-notch air fryers with rotisserie.
5. Chefman TurboFry 2 Quart Small Air Fryer for Small Spaces
Chefman TurboFry 2 is a small, affordable, and compact air fryer that will prove to be the perfect addition to your dorm or apartment. For people who wish to try an air fryer for the first time, this is the best bet. Apart from being super portable and easy to use, it has a nice, sleek design and glossy finish. The design makes it look good on all kitchen counters.
It is a small air fryer with 2 quarts cooking capacity but at times when you want to cook bigger batches, its basket design lets you increase the capacity by almost 40%.
Sale
The 98% less oil compared to deep fryers, the TurboFry 2 lets you prepare healthy meals. It is also known as a "personal air fryer" which makes it ideal for people who live alone and for those who have decided to lead a healthier lifestyle.
The versatile chefman air fryer sports a manual temperature control (Dial) that lets you choose your desired and required temperature settings. Its automatic timer shuts-off automatically after 30 minutes. Also, the included flat basket lets you increase the amount of food without any extra weight. The tray and basket are removable and dishwasher safe. Fry your favorite meals, frozen veggies, chicken wings, fries and reheat yesterday's leftovers hassle-free. Chefman produces the best countertop convection oven with a rotisserie as well.
6. Dash DCAF250GBBK02 AirCrisp Pro Electric Air Fryer for Small Spaces
Dash DCAF250GBBK02 AirCrisp is the perfect appliance for picky eaters, smaller batches, or those who have tight schedule. Cooking delicious and favorite meals like chicken wings, French fries, desserts and baked goods in a jiffy has never been easier!
Simply load ingredients into the 2-quart frying basket set the timer and temperature with the help of dials and that's that. Your food will come out tasty and crispy in no time and every time.
Like most air fryers, the device has an auto shut-off feature which comes in handy in case you tend to forget things. The feature makes it safer to use. The outer surface stays cool air frying so even kids can use it. Cleaning sounds messy but the nonstick basket is dishwasher safe so there is nothing to worry about it either.
Air fryer's compact size makes it super easy to carry around if you change places often. For small kitchen owners, it will perfectly fit in your small kitchen counter or you may store it in the cupboard after use. Furthermore, the device is backed by 1-year warranty. It comes with a recipe book, so you can try out new recipes if you are a cooking freak. Overall, Dash DCAF250GBBK02 AirCrisp Pro Electric Air Fryer is an entry-level appliance that offers ease of cooking, great performance and delicious meals effortlessly without breaking the bank.
7. Maxi-Matic Elite Gourmet Air Fryer for Small Spaces
The Maxi-Matic Elite Gourmet is a 1-quart personal air fryer that has a variety of functions to handle a range of cooking tasks. With its intuitive and easy-to-use temperature and time controls, you can fry, cook, and bake your favorite meals hassle-free.
Apart from using very little to no oil, it cooks faster than traditional cooking methods that saves both the time and energy. You can enjoy your favorite crispy treats without the additional caloric intake.
The air fryer is equipped with PFOA/PTFE free non-stick coated frying basket and rack that holds 1 quart / 3 to 4 pounds of food that is enough for personal use or for two people.
By using 90% less oil you get the same flavor and crispy finish and that too fat-free. Add the food in the frying drawer, set the temperature and time and sit back. The food will come out delicious and evenly cooked every time.
It's easy-to-use dials lets you adjust the temperature and time to cook a variety of meals allowing you to fry, bake, grill and roast in a jiffy. Enjoy crispy veggies, French fries, fish fillets, chicken tenders, wings, and more without worrying about gaining weight due to excessive oil.
Air fryer's stay cool handle allows you to remove food without accidentally burning your hands. The removable parts are dishwasher safe or otherwise can be cleaned with a damp cloth no complicated cleaning involved. This easy-to-store and compact air fryer is all you need to start a healthy lifestyle.
8. Elite Gourmet EAF2612D Programmable Hot Air Fryer for Small Spaces
Having over two thousand and counting, positive reviews and an impressive 4.6/5 star ratings this is one of the best personal-sized air fryers available on Amazon. Whether you are a student, single, couple or just want to start a healthy lifestyle, this dependable and practical appliance is the best bet.
It looks pretty sleek and smart with a compact size and a capacity of only 2.1 quart that is good enough for one person or two. It allows you to cook a wide range of meals such as chicken nuggets, wings, French fries, chicken tenders, or bake whatever is that you crave for. It takes care of all your food cravings without involving unhealthy deep-frying.
Sale
The splatter-free cooking makes cooking more fun and excited. Due to the air frying basket being non-stick coated, the cleaning is a breeze. The components are dishwasher safe so you don't have to spend hours by the sink. The air fryer itself can be wiped clean with a piece of damp cloth without rubbing and scrubbing. Please note, if you wash the fryer basket manually we suggest use soft hands, as rubbing it hard would be harmful for non-stick coating and it may start to peel off.
The appliance fits well with any décor, thanks to its compact size and attractive design. Anybody can cook with the appliance, thanks to its easy-to-use controls that allow you to adjust the time and temperature to cook your favorite meals in the blink of an eye. Further, if you are worried about having a small kitchen, it does not take much space and can be easily stored in a cupboard or a small space.  Enjoy crispy and tender meals without breaking the bank and compromising on your health with Elite Gourmet EAF2612D Programmable Hot Air Fryer.
9. Philips Premium Small Digital Air fryer for Small Spaces
If you got some cash to throw away, you might want to give Philips's premium digital air fryer a try. Although the price is higher than that of most air fryers, it cooks perfect and delicious meals every single time you use the appliance. The appliance is a part of Philips' compact air fryer series and it can feed up to 3 people at a time.
With its multi-cooking technology, you can air fry, bake, grill, roast, reheat, dehydrate and toast all in single appliance. The manual control, working with the features might not be super easy at first but once you get the grasp, things will turn out to be just great. Its digital display lets you have track of the time and temperature.
You get an accessories kit for every cooking function such as party mastery accessory kit, grill master accessory kit, and a baking mastery accessory kit. Plus, all the accessories are dishwasher safe or otherwise can be manually washed by soaking them in soapy water.
Philips fat removal technology removes extra fats from your meals, providing you healthy meals every time. Since there is no oil involved in cooking with an air fryer, that's the beginning of your healthy lifestyle! Although, the price is on the higher side, but the features and functionality it offers justified the price tag.
10. Amazon Basics 3.2 Quart Compact Multi-Functional Digital Air Fryer for Small Spaces
The main motive behind Amazon Basic is to provide the customers with highly rated products at reasonably low prices. Amazon Basics 3.2 Quart air fryer provides digital controls, multi-functional capability and incredible performance.
This compact digital air fryer works great while cooking frozen French fries, fish sticks, tater tots, and roasted broccoli with a great crispy layer on the outside while leaving the ingredients tender and juicy on the inside. The digital controls lets you adjust the time and temperature with ease, unlike manual dials where you have to fiddle with the settings to get things done.
To make things easy, you will find dishes with clearly labeled time and temperature. It comes with 7 preset cooking options that you can choose from.
It is super easy to clean due to the non-stick coating frying basket. The compact design is easy to store and doesn't take much space on your kitchen-top which makes it a perfect appliance for small apartments and dorms. Overall, a handy appliance with an affordable price tag that cooks whatever you wish for!
Best Small Air Fryers for Small Spaces Buying Guide
There are several factors that may influence the purchase of any appliance for your kitchen top. You may need to check the following points while buying the best small air fryer.
Counter Space
If you have a huge kitchen space you may opt to have a large capacity air fryer. Air fryer usually sits on tabletops or counter-top so go for the one that can fit into the available space in your kitchen counter.
Capacity
Whether you are a single living in a small apartment or living with your partner you can rely on a small air fryer with 1.2 liter cooking capacity. On the other hand if you are a family of 3-4 you should choose an appliance with a larger cooking capacity. Air fryers are available in various sizes and capacities ranging from a liter to 12 liters.
Price Tag
Smaller size, smaller price tag! When you cook for 1 or two persons at best, you don't have to spend a large sum of money to buy an appliance with additional features and capacity that you will not use at all.
Weight
If you store your air fryer after use, you probably should check out weight beforehand. If you pick a heavy appliance, moving it around wouldn't be easy for you.
Warranty
Whether big or small, don't forget to check if the product is covered by at least one year warranty. Furthermore, you can reach out to customer service in advance just to have an idea of how friendly and cooperative they are. Also, check product reviews on Amazon and you will have a clear view of the product's reliability and durability.
FAQs on best small air fryers for Small Spaces
What is the best small air fryer to buy?
Ninja Air Fryer that Cooks, Crisps and Dehydrates (AF101) is neither too big nor too small. It has a perfect capacity of 4 quarts for a mid-size family. The appliance offers an easy-to-navigate control setting and a super-compact design which makes it the best pick for a small kitchen counter.
What are the best air fryers on the market in 2023?
The products reviewed here are dependable, durable and offer great value for money. Although, its hard to pick the best out of the best but here are the top 5 most complete air fryers and the pressure cooker Combo that you can buy right away.
Ninja Air Fryer that Cooks, Crisps and Dehydrates
COSORI Air Fryer Max XL
Ninja FD401 Foodi 8-Quart 9-in-1 Air Fryer
Instant Vortex Plus Air Fryer
GoWISE USA 1700-Watt 5.8-QT 8-in-1 Digital Air Fryer
Ninja Foodi AG301 5-in-1 Indoor Grill with 4-Quart Air Fryer
Is a 2-quart air fryer too small?
A 2 quart air fryer can cook small batches of fries, chicken wings or any other food that you favor. If you are cooking for a person or two, a 2 quart air fryer is just fine but more than that you'll have to cook batch after batch to meet the need. It is a fine pick for students, singles or couples living in small apartments hence storage will not be a big deal.
Conclusion about best small air fryers for Small Spaces
Big or small, air fryers do their job well. Everything you throw into its frying basket comes out crispy, delicious, and juicy with no health issues attached. A little or no oil makes the appliance a great option for those who wish to have a healthy lifestyle but struggle to cut on oil or calories.
Ninja Air Fryer that Cooks, Crisps and dehydrates is a medium-sized air fryer to fulfill all your food cravings. For a smaller size, you can opt for Dash Compact Air Fryer with a 2-quart cooking capacity, a perfect choice for singles, students, and couples living in apartments with small kitchen spaces.
For a large family, obviously, a compact and 1-2 liter air fryer is not enough so you can check out COSORI Air Fryer Max XL with tons of amazing features and a huge cooking capacity. Whatever product you choose you'd end up cooking mouth-watering meals for your loved ones. Do let us know your thoughts on your favorite air fryer in the comments section down below!
Read also: Best Air Fryer under 150$