There's something special about a cake. Not just any old cake, but a really great one. Maybe it's the way the light dances off of the frosting, or the smell of vanilla that fills the room as it bakes. Whatever it is, there's just nothing like a delicious cake.
But what if, you don't have a microwave to bake a cake? Can you bake a cake in an air fryer? YES! Some of the advanced air fryers do have a cake setting however, if it doesn't, a basic air fryer can do the job well. In this article, we'll take a look at how can you bake a cake in an air fryer and in no time. So, put on your aprons and get ready for some sweet fun.
There are few things as satisfying and easy to make than an Air Fryer Cake. You can either use a box mix, or go all out by making your own cake from scratch.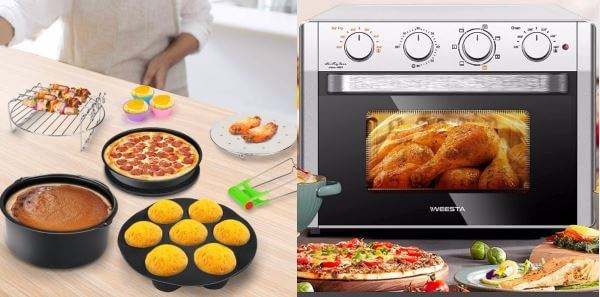 So here is what you need to bake a cake in an air fryer.
Box Mix – You can choose any brand or flavor of your choice.

Vegetable or canola oil

A few eggs

Water
How to Make cake in an air fryer?
Step One:
First things first! Prepare the cake batter in a large bowl using either an electric hand mixer or whisk, combine all ingredients according to box directions. You will need box mix, eggs and water to get the batter ready in a minute.
Step Two:
If your air fryer pressure cooker combo has a cake function, it must have a cake pan already. Remember, that any cake pan will do only it needs to fit inside the air frying basket. To avoid the risk of sticking, line your cake pan with a piece or two pieces of parchment paper. Spray inside surfaces before adding any other ingredients so they don't stick to the surface.
Step Three:
Pour the cake batter into a pan and put it in an air fryer. Then, set your temperature to 320 degrees F and cooking time of 25-30 minutes.
Step Four:
Once the cooking cycle if complete, the air fryer will automatically stop. Use oven mitts to remove the cooked cake from the air fryer. Once cool, transfer the cake onto a plate or stand. You can check the doneness of the cake by inserting a toothpick in the middle of the cake. Once the toothpick comes out clean your cake is done.
Step Five:
Decorate the cake with chocolate, buttercream, strawberries, or anything as you please. Once decorated as you desire, store the cake in the refrigerator. Serve when required!
What flavor of cake mix should I use?
You can use any flavor of cake mix, or you can prepare your own at home if you are a pro. Cake mix comes in handy when you don't have time and need to have your cake ready in no time. Yellowcake mix, white, or any other flavor will work just fine.
Do I need a special cake pan for air fryers?
Nope, you just need any cake pan that will easily fit into your air fryer's basket. Based on the size of your air fryer, you can buy a cake pan from Amazon/ebay if you bake cakes often.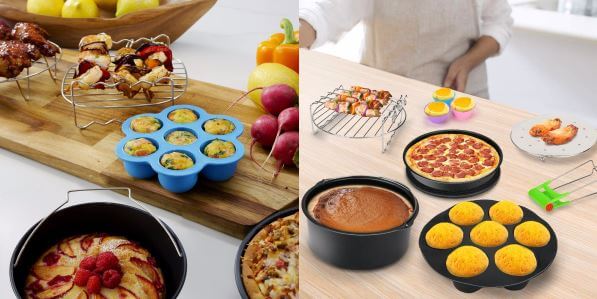 Final Thought
Baking cake might seem to be a hectic task but it is definitely not when you have an air fryer. Can you bake a cake in an air fryer? Of course! You don't need to prepare cake mix at home if you want everything in a jiffy. Use store bought cake mix, mix it well with the ingredients, put it in the air fryer, 20 minutes and you have your cake ready. Decorate it as you please and serve with your favorite beverage. Don't own an air fryer yet? Check out our best air fryer pressure cooker combo guide and you will definitely find one suitable to your cooking needs. Happy cooking!
Related Articles