Tiger rice cookers are some of the best in respect of cooking performance and durability. Once you invest in a Tiger rice cooker, you can forget about buying a new one for at least a decade. However, customers often complain that Tiger needs to include more features in their rice cookers. With the introduction of JBV-A10U, these complaints will finally vanish. Tiger JBV-A10U rice cooker not only has the cooking performance and durability of its predecessor, but it also has the added touch of the new-age features.
Tiger JBV-A10U Key Features
| | |
| --- | --- |
| Brand | Tiger |
| Origin | Japan |
| Model | JBV-A10U |
| Dimensions | 10.6 x 13.9 x 8.4inches |
| Weight | 5.7 pounds |
| Available Colors | White |
| Cooking Capacity | 5.5 Cups |
| Material | Plastic, Stainless Steel |
| Accessories | Non-stick spatula, measuring cup, Cooking plate, and a Cookbook |
Tiger JBV-A10U Design
The best thing about the Tiger JBV-A10U rice cooker is the unique and updated design. Finally, one of the manufacturers has gone in a different direction and not only changed the features but also updated the design of their rice cooker. For far too long, rice cookers have had the same body design with a lid handle and the controls on the bottom. The JBV-A10U has brought a much-needed change.
At first glance, you won't be able to tell if it is a rice cooker. Gone is the round-shaped body with a typical plastic lid handle. There is a control panel on the front and a completely different-looking cooking chamber that fits the non-stick cooking pot. A flat lid opens/shuts on top of the cooking chamber, and the handle is a movable one that goes to the back of the rice cooker when cooking. The new design does increase the footprint of this rice cooker, but the design is a huge improvement.
In short, where most rice cookers bring performance, this Tiger rice cooker brings performance as well as style to your kitchen.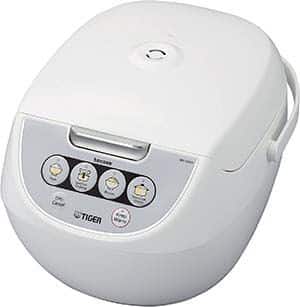 Features and Functions
Rice cookers are to cook fluffy, delicious rice, but what if we told you that you can do more with your rice cooker. To be precise, you can do much more than just cooking rice with the Tiger JBV-A10 electric rice cooker. There are FOUR different cooking functions on this rice cooker using which you can prepare white rice as well as brown rice. You can also slow cook in this rice cooker to prepare some chicken or beef recipes to go with the fluffy white rice you prepared in the JBV-A10 rice cooker.
The highlight function of the JBV-A10 rice cooker is the Synchro-Cooking function. With Synchro-Cooking, the rice cooker can cook rice and the main dish both at the same time. So, if you are planning to have some brown rice and chicken curry for dinner, you won't have to use two different appliances or cook in batches. You can cook both of these dishes in the JBV-A10 rice cooker. Just like many other rice cookers, this one also has the Keep Warm feature. So, if anyone is running late, their food can be kept fresh and warm in this rice cooker without burning it.
All the functions have separate one-push buttons on the control panel, making it very easy to use. Whether you plan to cook brown rice or white rice, want to steam, slow cook, or use Synchro-Cooking, all you have to do is push the button. Within a few minutes, you will have tasty and delicious food ready to serve. If you ever push the wrong button, there is a cancel button as well, so your food doesn't go to waste.
An important feature of any cooking appliance is, how much food it can cook in one go? Whether it can cook enough to feed the family? Can it help in hosting a family dinner? Etc. Thankfully, with the 5.5 cups(uncooked) capacity, the JBV-A10 can meet all your demands. Furthermore, if you have a bigger family, you also have the option to buy the 10-cup capacity rice cooker. Tiger really has thought about everything before releasing the JBV-A10 for consumers.
Cleaning
Cleanup of this rice maker is just as easy as cooking a meal in this rice cooker is. The cooking pot is non-stick, so it would wipe clean even if you run it under the sink tap once or twice. The steam cup is removable as well, so you don't have to worry about that as well. If you ever smudge the outer housing, it will wipe clean with a damp cloth because it is plastic. To make the cleanup easier and faster, all the components are made dishwasher-safe too. So, when not in the mood for scrubbing, just put them into your dishwasher.
Conclusion: Tiger JBV-A10U
Tiger products are the epitome of durability and high performance. With the Tiger JBV-A10, they now are focusing on the newer requirements as well. The new requirement being versatility and time-saving and the JBV-A10 has versatility with THREE different cooking methods, and it saves time by cooking two dishes at the same time. Also, the improvement in the design is a huge buying point too. We hope our review is helpful enough for you, so you can decide whether you should buy it or not.
Also Read: Сuckoo CMC QSB501S review