This aromatic gingerbread is spiced beautifully by cinnamon and ginger and tastes incredible with a cup of tea in the afternoons
Ingredients:
400g dark brown soft sugar
250g unsalted butter
200g plain flour
125g wholemeal flour
250ml soured cream
150ml honey
125ml orange juice
150g sultanas
125g flaked almonds
4 tbsp. orange flavoured liquor
3 eggs
4 tsp. baking powder
2 tsp. ground ginger
1 tsp. ground cinnamon
¼ tsp. ground cloves
¼ tsp. ground nutmeg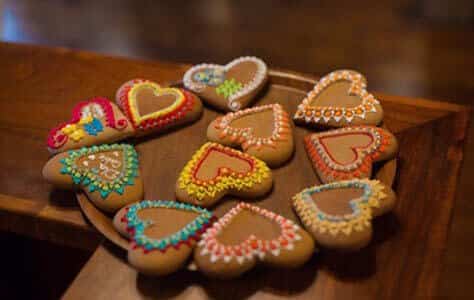 Directions:
Preheat the oven to 180C/gas mark 4.
Line and grease the insides of a tube cake tin.
Sift and mix together the flours, spices, and baking powder. Set to one side.
Cream the butter with the sugar. Beat the eggs into this one at a time to prevent them curdling. Once this mixture is smooth, beat in the orange juice, soured cream, orange liquor, and honey.
Mix the flour mixture into the wet mixture. When smooth, mix in the sultanas and the almonds.
Put this mixture into the cake tin and cook for 80 minutes. This seems like a lot, but the cake will be wonderfully aromatic and moist in the middle.
Serve this warm up with some thick custard if you don't want to eat it as a teacake. These will keep up to two weeks in an airtight container.
Related Articles