Eating healthy is something we all strive for. But how can we make our healthy food delicious too? And the answer is — air fryer. Surprisingly, food cooked without fat can be succulent and delicious. That's why air fryers are becoming so popular. Now the problem is: how do I select the best one? We looked at the 2 most popular models and compared them, so you can choose.
We picked out two models manufactured by well-known producers with established names on the air fryer market: Cosori Air Fryer 5.8 Quart and Instant Vortex Air Fryer 6 Quart.
Let's first look at each one of them separately and then compare.
Image
Product
Features
Cosori air fryer Oven Combo, 5.8 QT
Dimensions: 11.8 x 14.3 x 12.7 inches

Weight: 12 lb

Materials: Stainless steel and plastic

Capacity: 2 – 4 pounds

Programs: 11 presets

Wattage: 1700 Watt

Temperature: 170-400° F

Automatic Shutoff

Basket: non stick. dishwasher safe

Recipes: 100 recipes

Warranty: 2 years

Price: USD118.00

Instant Vortex Air Fryer Oven, 6 Quart
Dimensions: 14.92 x 12.36 x 12.83 inches

Weight: 16 pounds

Materials: Stainless steel

Capacity:3-5 pounds

Programs: 6 presets

Wattage: 1500 Watt

Temperature:95-400° F

Automatic Shutoff

Basket: non stick

dishwasher friendly

Recipes: free app with recipes

Warranty; 1 year

Price: USD120.00
Cosori air fryer Oven Combo, 5.8 QT
Brand
Cosori is a prominent US producer of versatile kitchenware using state-of-the-art technology and making cooking enjoyable.
Apart from air fryers, Cosori produces toaster ovens, kettles, dehydrators, and other products, which quickly become indispensable assistants in the kitchen.
Features
Food preparation in a Cosori smart air fryer oven is based on a 360° hot air circulation. You can cut oil by 85% without losing taste. The crispiness of deep-fried food amazingly remains without it being deep-fried.
Its prominent features earned the Cosori air fryer the reputation as the best air fryer oven in the market.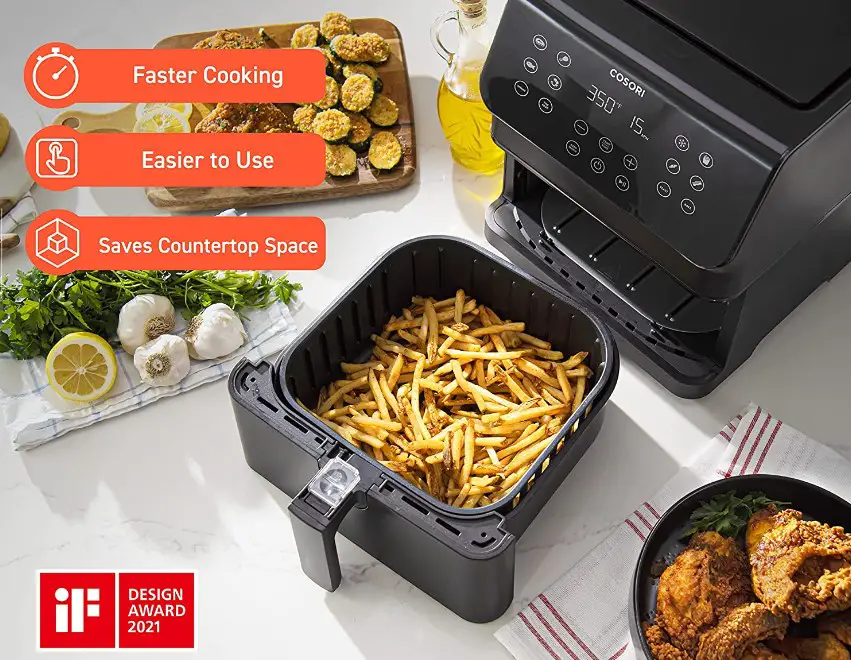 Weight and Dimensions
A Cosori air fryer is quite compact: 11.8 x 14.3 x 12.7 inches. This air fryer is not very light. It's best to designate a special place for it and not move it too much, as it weighs 12 pounds.
Materials
This air fryer oven is made of stainless steel and plastic and has an elegant high-tech design.
Capacity
A Cosori air fryer can fit 2–4 pounds of products (quite enough to air fry a delicious whole chicken) (5.8-quart capacity).
Programs
The air fryer has 11 preset cooking modes including poultry, steak, bacon, seafood, shrimp, roasted vegetables, root vegetables, French fries, and even bread and dessert. The LED screen is user-friendly: you just need to touch it once. Digital controls allow you to adjust the temperature to the one you need.
Wattage and Temperature
This feature basically determines the cooking time. The higher the number, the faster the food is ready. The Cosori air fryer has a power putout of 1700 watts and a temperature range of 170-400° F. The adjustable temperature control allows you to monitor how soft the food is and its temperature as well. For some dishes, serving at the desired temperature is important.
Automatic shutoff
This safety feature of the Cosori air fryer is very useful and prevents overcooking.
Basket
A non-stick square air frying basket is dishwasher safe, which makes cleaning and maintenance really easy. Or you can wash the removable parts in warm water.
Cosori air fryers come with a wire rack and a baking dish as a pleasant bonus.
Recipes
A Cosori air fryer comes with a cookbook of 100 amazing recipes. They will be a great help while you are getting used to a new kitchen appliance.
Warranty
For a Cosori air fryer, the company offers a two-year limited warranty. It means that the air fryer will be warranted against manufacturer defects, but not against misuse, accidental damage, or abuse.
Price
Cosori is a smart air fryer that offers a lot of valuable features to its owners. The approximate cost is USD 118 and can vary and be subject to seasonal discounts.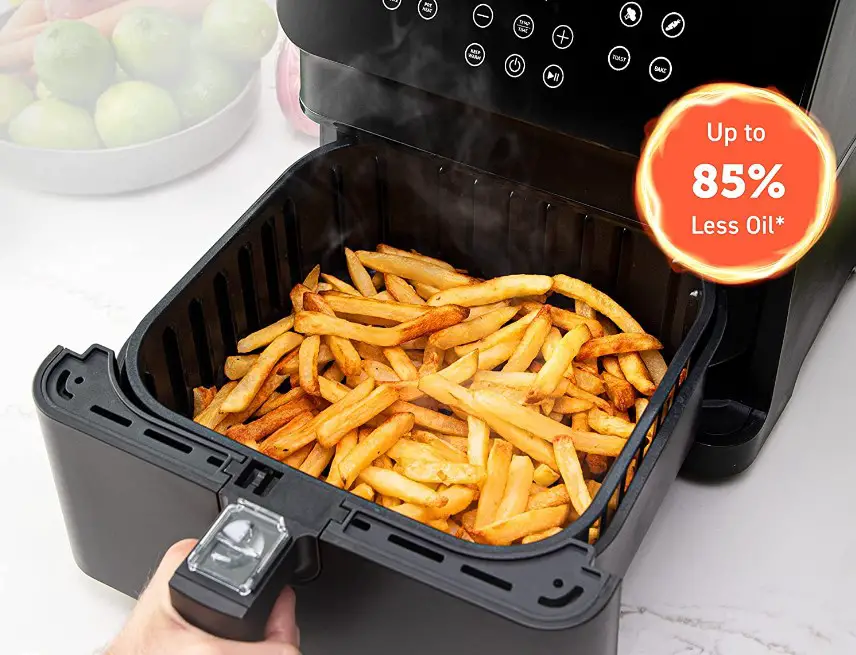 Instant Vortex Air Fryer Oven, 6 Quart
Brand
Instant Brands Inc. is a manufacturer with worldwide recognition. It produces top-quality kitchen appliances including air fryers, blenders, toaster ovens, coffee makers, and other small kitchen equipment. It also encourages you to eat healthy food and get together to cook it.
Features
An Instant Vortex air fryer oven works the same way as the Cosori air fryer. Innovative technology brings the hot airflow from top to bottom.
You can cook fried foods in the air fryer without consuming a dangerous number of carcinogens. You will use minimal fat to prepare the meals, cutting down on the fat amount by up to 95%. Basically, you are cooking without added oil or fat. Still, the foods are crispy and golden.
Weight and Dimensions
An Instant Vortex air fryer is not large: 14.92 x 12.36 x 12.83 inches. It's quite heavy, however, nearing 16 pounds. We recommend finding a permanent place for this air fryer and not moving it too much.
Materials
An Instant Vortex air fryer is made of stainless steel. It looks sleek and modern.
Capacity
This air fryer oven can handle 3-5 pounds of food products. It's substantial, which means that the Instant Vortex air fryer is suitable for a large family (6 quarts).
Programs
This multifunctional air fryer offers 6 main cooking modes to prepare food: frying, baking, reheating, roasting, dehydrating, and broiling. One-touch customized programs make it easy to navigate the appliance: wings, roasted vegetables, cinnamon rolls, and many more delicious foods.
Wattage and Temperature
The optimal wattage for an air fryer is 1500-1800 watts. Then the food will be cooked fast enough and the electricity consumption will be reasonable. The wattage of the Instant Vortex air fryer is within this range: 1500 watts.
Instant Vortex provides temperature control. It's especially convenient if you are using advanced cooking techniques when, for example, the serving temperature is critical.
The temperature range, that Instant Vortex offers, is 95-400° F. There is also a Fast Preheat function. Your food will turn from frozen to crispy in a few minutes.
Automatic shutoff
The built-in auto shut-off function is invaluable, especially if you can be a little forgetful.
Basket
Instant Vortex is equipped with a nonstick dishwasher-safe air fry basket and a tray.
Recipes
If you buy Instant Vortex, you can use a free Instant Pot app with lots of great recipes. They will help you enjoy your new air fryer even more.
Warranty
Instant Vortex air fryers come with one year of limited warranty. Such a warranty covers manufacturing defects but doesn't cover any cases of misuse, accidental harm, or improper handling.
Price
Prices for Instant Vortex can vary but will stay in the area of USD 120.
Cosori vs. Instant Vortex
So, we've looked closely at both air fryers. Now it's time to find the winner between the two.
We'll evaluate their performance feature by feature, Cosori vs. Instant Vortex, so you can make your own judgment. Sometimes, it's not about the quality of the item, but the particular need of the customer. It can be a required larger capacity to feed a bigger family or just the weight of an air fryer.
So, we are providing you with all the essential information, then — it's up to you.
Let us start with ratings. According to the customer reviews, the Cosori air fryer rating is 4.7 whereas Instant Vortex accounted for 4.6. Pretty close.
Size and weight. A Cosori air fryer is slightly smaller and 4 pounds lighter than Instant Vortex. The difference in weight could be important if you plan to move the air fryer around a lot. Then, the lighter, the better, obviously.As for general design, they are both stylish stainless steel appliances that will look great in any kitchen.
Capacity. Instant Vortex, being larger, is higher in capacity too. A 6-quart air fryer can fit a medium size chicken, sufficient for a family of 4. The capacity Cosori offers is 5.8 quarts, which is less, but the difference is minimal.
Programs. A Cosori air fryer boasts 11 cooking presets including various types of meat, fish, vegetables, and desserts. Instant Vortex offers 6 cooking functions. One-touch customized programs will cook chicken wings, garlicky potatoes, cookies, and lots of other delicious things.
Wattage and temperature range. These features are in the same range for both models.A Cosori air fryer provides 1700 Watt and 170-400° F. Instant Vortex — 1500 Watt and95-400° F. The wattage affects the time of cooking. Judging from the figures, a Cosori air fryer will cook a little faster.
Automatic shut off. Both air fryers have this feature.
Basket and accessories. Instant Vortex and Cosori both have a nonstick basket, which is dishwasher safe. Cosori comes also with a wire rack and a baking dish and Instant Vortex — with a tray. Both air fryers are very easy to clean up, even just with hot water and a little soap.
Recipes. Cosori comes with 100 air-fryer recipes featuring all kinds of foods, starting from pork chops and Brussels sprouts and ending with cupcakes and even hot alcoholic drinks.Instant Vortex will supply you with a free Instant Pop app where you can find so many delicious recipes: steaks, lasagna, potato wedges, quiches, and muffins. The list is endless.What is really inspiring about both air fryers is that you can cook dishes requiring advanced cooking techniques. If you so want, you can show off your amazing skills and prepare something besides chicken wings or burgers, like sous, vide beef Wellington. Air frying can be gourmet. Although the chicken wings are great too.
Warranty. Both producers provide their customers with a warranty. For Cosori it's two years and for Instant Vortex — one year of limited warranty. In this case, the Cosori offer is significantly better.
Prices. This important feature will not help you make a choice. The prices of Cosori and Instant Vortex are basically the same — about USD 120. You can probably find a better offer in the sale season, so look out for discounts.
Conclusion
As you can see from our thorough investigation, Instant Vortex and Cosori have a lot in common. It often happens with top-quality models and makes it more challenging for a customer to choose. So the battle Cosori vs. Instant Vortex ended in a draw. In the end, the customer will proclaim the winner.
There are many air fryers in the market. But we thought that these two models have the best combination of options compared to other air fryers. They have all the important features essential for fast, easy, and delicious results.
Make your decision based on your needs and expectations. We are absolutely confident that whether you choose an Instant Vortex or a Cosori air fryer, it will serve you well, and you'll be able to enjoy healthier and tastier meals.
Read also: Difference between air fryer and pressure cooker, the main advantages and disadvantages of the kitchen appliances. 6 best air fryers and pressure cookers